Leopards
OFFICIAL: AFC Leopards confirm ex-Mathare duo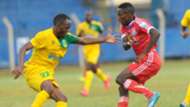 AFC Leopards have announced the arrival of former Mathare United players Robinson Kamura and Whyvonne Isuza.
Goal understands the two, whose contracts had expired with the 'slum boys', had signed an initial agreement pending clearance from former team. Ingwe Secretary General Oscar Igaida has confirmed the two are now part of the team.
"Yes we have signed Isuza and Kamura on a two year contract each from Mathare. They are good players, who will help us regain lost glory and we are happy to have signed them."
When reached for comment, Mathare CEO Jackton Obure said the two might have left but they have not been given their release letters. "Their contract had expired and their is a possibility they have left us but we have not given them their release letters and AFC Leopards have not informed us that they have signed them."