Antonio Conte
No Plan B, no rotation: What Conte can learn from Mourinho & Allegri to make predictable Chelsea winners again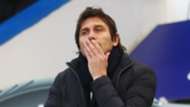 ---
ANALYSIS
---
What started as Chelsea's strength is fast becoming their weakness. Antonio Conte's consistency in selection took his team to the top of the Premier League but it has resulted in a lack of flexibility in the final months of the season as opponents can now predict exactly what he will do.
Chelsea are best in a 3-4-3 formation. It is a system that the main 14 players at the club have truly mastered but their limited use of other systems, such as 3-5-2, hasn't really been successful. 
Jose Mourinho expertly employed Ander Herrera to do a man-marking job to slience the in-form Eden Hazard last week as Manchester United ran out decisive 2-0 winners over Chelsea. 
Blues boss Conte had no answers to counteract his side being dominated at Old Trafford and Sam Allardyce also showed an understanding of how to get the better of Chelsea when Crystal Palace won 2-1 at Stamford Bridge at the start of April.
Conte has a great plan A, but no serious plan B, beyond the introduction of Cesc Fabregas to add creativity off the bench. This is a concern when players like Diego Costa find themselves out of form and with no real competition for their place.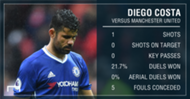 Costa has failed to score in his last six games for Chelsea, which is his worst ever run in a blue shirt. The stats which show his form dipped after a lucrative offer from Chinese Super League club, Tianjin Quanjian, indicate Costa is still unsettled by an interest which remains ahead of the summer transfer window. 
Chelsea have Michy Batshuayi, a £33 million signing from Marseille last summer, waiting for his chance but they have given him so few opportunities this season that it would be a risk to bring him in now, with the pressure reaching peak intensity. 
Spurs are monsters, says David Luiz
Batshuayi has made just 17 substitute appearances, and has yet to start a game in the Premier League, not even when Costa was unavailable through injury or suspension. When Costa was missing, it was Hazard who was preferred as a false nine, with Willian stepping into the team. 
Only 113 minutes of football in the league doesn't leave Batshuayi with much match rhythm as an alternative to Costa. Batshuayi made his only two starts of 2017 in the FA Cup against lower league opposition but he was dropped for the matches against Wolves and Manchester United in later rounds. 
It isn't all bad, though, as Conte's consistency and unwillingness to bed in less experienced players led to a 13-game winning streak. That is the longest winning run in the club's history and established their dominant position at the top of the table.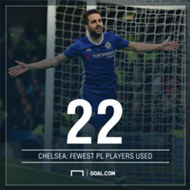 That winning run was helped by only having one game a week and no serious injury concerns for the players. Some of Chelsea's players are beginning to tire both mentally and physically in the final months of the season. Thibaut Courtois, Victor Moses and Marcos Alonso have all suffered injury and illness in recent weeks.
Chelsea still aiming for the double, says Gary Cahill
Chelsea have made only 33 changes to their line-up this season, fewer than any other team. Their use of just 22 players in the league is the joint-fewest with West Bromwich Albion, another team who are faltering late on into the season. 
With the bodies of Chelsea's players starting to give in, many of the replacements aren't match fit enough to offer alternative options against teams as good as Manchester United and Tottenham. 
Conte could still mark his first season at Chelsea with two huge domestic honours, and his approach to man-management and attention to detail on the training pitch are a lesson for his full-time predecessor Mourinho.
But, as Chelsea limp towards the finishing line, Mourinho could also teach Conte a thing or two in terms of squad rotation and defensive systems as United finish the season strongly.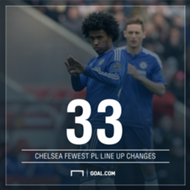 In addition, Conte's successor at Juventus - Massimiliano Allegri - produced a tactical masterclass to shut out Barcelona in both legs of their recent Champions League quarter-final.
Allegri adapted to the demands of the opposition and the situation, but Conte has unconvincing alternatives both in personnel and formations to close games out or turn matches around.
Conte is loved in Italy and at Juventus, but he was criticised for a lack of rotation which led to his team struggling in Europe in all three of his seasons in charge in Turin.
In 2014, Conte played nine of his strongest line-up against Sassuolo, despite being almost certain to win the title, ahead of a Europa League semi-final second leg. Juventus lost 2-1 on aggregate after a 0-0 home draw with Benfica in the second leg.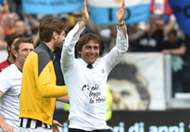 At Chelsea, Conte devised his 3-4-3 formation out of a crisis following the 3-0 defeat by Arsenal in September. The loss at United last weekend was the second worst of his reign and is another result to lose sleep over.
The transfer market may offer summer solutions for Conte, but he may now be wishing he had rotated more when the times were good at Chelsea. 
It is now too late to make major changes away from their 14 key men, meaning they must maintain confidence, focus and use their experience in the final month of the season.
They will also need to get back to the basics of work-rate and grit to crawl over the line.