U20 Women's World Cup Qualification Africa
Nigeria should expect tough match in Tanzania, says Karuma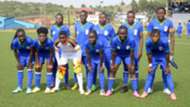 Tanzania Women Premier League chairperson Amina Karuma is confident the country's U20 women side will put up a 'tough and different' challenge against Nigeria on Sunday.
Sebastian Nkoma's ladies will host the Falconets in the return leg in Dar es Salaam after succumbing to a 3-0 defeat in the first leg of the World Cup qualifier in Benin two weeks ago.
And the women's league boss insists her side have learnt many lessons from the first leg and are looking to right their wrongs.
"We've got an experience playing Nigeria and I believe it will help us get a better performance in our next game in Dar es Salaam," Karuma told Goal.
"We are not troubled by the result in Benin but we Nigeria should expect a tough and different match in Tanzania in the second leg."