Nigeria
Nigeria fans give Gernot Rohr an A grade so far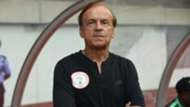 Gernot Rohr's Nigeria tenure has been given the stamp of approval by Goal readers, after the German coach secured the Super Eagles' place at next summer's World Cup.
Last week, we asked Goal readers how they would grade Rohr's reign so far, and 40 percent of those who responded awarded the 64-year-old an A grade after his first 14 and a half months at the helm.
Some fans were even more content with the manager's work to date, with 27 percent of supporters handing the coach an A plus grade.
Certainly, Rohr won many admirers for the way that his swashbuckling side negotiated the would-be 'Group of Death' in World Cup qualifying, with the 4-1 victory over Cameroon in Uyo particularly impressive.
However, many readers still believe that there's more work to be done.
27 percent of respondents only awarded Rohr a B, despite the improvement that he's overseen since replacing Sunday Oliseh, and the way with which he's settled the ship after the former midfielder's tumultuous regime.
Nonetheless, there are some issues within the squad that the former Gabon boss is yet to address.
It remains to be seen whether Ikechukwu Ezenwa is a reliable option between the sticks following Carl Ikeme's leukaemia diagnosis, while there are still doubts about whether Elderson Echiejile and Abdullahi Shehu are Nigeria's best options in the full-back berths.
Similarly, Rohr's raised some eyebrows with his substitutions, appearing to show undue faith in Mikel Agu, for example, while neglecting the experience and power of John Ogu against both Cameroon and Zambia.
A handful of Nigeria fans are even less impressed with the coach's performance, with five percent of respondents awarding Rohr a C grade – which seems somewhat harsh considering his achievements with the Super Eagles.
Perhaps this handful of fans are simply evidence that you can please some of the people all the time, and you can please all of the people some of the time, but you can't please all of the people all of the time!