MLS
New York City FC 2017 MLS season preview: Roster, schedule, national TV info and more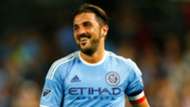 ---

2017 MLS SEASON PREVIEW
---
The Patrick Vieira era at New York City FC began with a successful first season, as the French World Cup winner thrived in his first job as a professional head coach. He implemented a possession-based style that had its hiccups early on, but eventually yielded some of the best soccer in the league.
Led by MLS MVP David Villa, NYCFC went from being a team that couldn't win at Yankee Stadium to a team that couldn't lose there, though not before a 7-0 shellacking at the hands of the New York Red Bulls on May 21 which served as rock bottom.
NYCFC eventually found a rhythm at home, helped in part by Frank Lampard's outstanding form during the summer. Defensive issues persisted through much of the season, but some personnel maneuvers, like shifting Andoni Iraola into a defensive midfield role, helped the team find firmer footing heading toward the playoffs.
A brutal loss to Toronto FC in the East semifinals provided a sour finish to what still had to be considered an impressive season for a second-year team. Vieira helped his club develop an identity, while also winning over the fickle fans in New York, who showed up in good numbers throughout the season.
As successful as 2016 was, NYCFC underwent a considerable makeover this winter. Lampard and Iraola retired, while Vieira looked to revamp his defense and overall depth. The arrivals of exciting Argentine attacker Maxi Moralez, goalkeeper Sean Johnson and MLS Cup winner Rodney Wallace, among others, has NYCFC looking very much like an MLS Cup contender heading into year three of the team's existence.
---
How did NYCFC perform in 2016?
---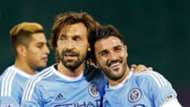 2016 finish: Second in Eastern Conference (15-10-9), lost to Toronto FC in the Eastern Conference semifinals.
Vieira's side endured a rough 1-3-3 start in 2016, and struggled mightily to win at Yankee Stadium before Frank Lampard's return, which sparked a summer surge that pushed NYCFC toward the top of the East. A strong finish to the regular season had NYCFC looking like a threat to go deep in the playoffs, but a brutal playoff loss to Toronto FC provided a bitter end to the team's second season.
---
NYCFC's key offseason losses
---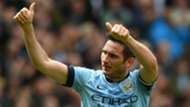 The retirements of Frank Lampard and Andoni Iraola are particularly painful losses given how well both played in 2016. Neither of their decisions to step away came as a surprise though.
Starting goalkeeper Josh Saunders was sent packing after two seasons as the team's starter. Defensively, veteran Jason Hernandez is also gone after two seasons, with Connor Brandt and Diego Martinez also sent packing. Central defender Jefferson Mena has been sent on loan to Ecuadorian side Barcelona.
In midfield, Mehdi Ballouchy also chose to retire, while Federico Bravo left the club. Mix Diskerud is still on the team's roster, but the club is working to unload him and could choose to buy out his contract if it is unable to find a trade partner willing to take him, and one Diskerud is willing to leave New York for.
Speedy midfielder Steven Mendoza saw his loan from Brazilian side Corinthians come to a conclusion, while Tony Taylor's contract ran out, paving the way for his move to Portuguese squad Pacos de Ferreira.
---
NYCFC's key offseason additions
---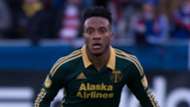 NYCFC didn't waste much time filling the designated player slot left behind by Frank Lampard, with quick and skillful Argentine Maxi Moralez arriving from Mexican side Club Leon. His attacking qualities should open things up even more for David Villa as well as the stable of wingers on the team.
Rodney Wallace is one of those wingers, having joined NYCFC after a stint with Brazilian club Sport Recife. The former Portland Timbers standout should step right in and pose a serious threat for the starting left wing role.
Replacing Iraola in the defensive midfield spot was important and NYCFC has landed a potential gem in Venezuelan defensive midfielder Yangel Herrera, who arrives on loan from Manchester City. The teenager and captain of Venezuela's Under-20 team should step in and be a force in the middle.
Improving the defense was a key priority for Patrick Vieira and Peruvian central defender Alexander Callens will be expected to help solidify the back line.
Also expected to help cut down on goals allowed is goalkeeper Sean Johnson. The former Chicago Fire netminder, acquired via trade from Atlanta United, should be an upgrade over former starter Josh Saunders.
Midfielders Miguel Camargo and Alexander Ring are expected to battle for minutes as well, while U.S. Under-20 national team standout and first-round MLS draft pick Jonathan Lewis should also compete for time as a winger.
New arrivals and American veterans John Stertzer and Ben Sweat impressed in preseason to earn roster spots.
---
How will the NYCFC starting XI look in 2017?
---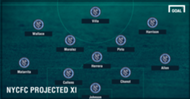 One of the things we learned about Vieira last year is that he loves tactical flexibility, and isn't afraid to trot out a three-man defense when the occasion calls for it. That said, we should see more of the 4-3-3/4-5-1 we saw last year, with Villa leading the line and NYCFC's deep cast of wing options filling out the flanks.
There are still some position battles to be decided, particularly on the wings, where Rodney Wallace and Jack Harrison are good bets, but facing stiff competition from the likes of Tommy McNamara, Camargo, Khiry Shelton and Lewis.
McNamara's versatility, and attacking quality, should make him tough to keep of the field, though for no we project him behind Wallace and Harrison. With national team call-ups and injuries likely, the team's impressive midfield depth will be needed if the team is going to make a run at first place in the East.
Defensively, Callens and Maxime Chanot are the picks in central defense, though Vieira could slide in a Frederic Brillant or Ethan White into a three-man defense in a 3-5-2.
---
Full NYCFC roster entering 2017 season
---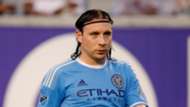 Goalkeepers : Eirik Johansen, Sean Johnson, Andre Rawls.
Defenders : R.J. Allen, Frederic Brillant, Alexander Callens, Maxime Chanot, Michael Degraffenreidt, Shannon Gomez, Ronald Matarrita, Ben Sweat, Ethan White.
Midfielders : Kwame Awuah, Miguel Camargo, Mix Diskerud, Jack Harrison, Yangel Herrera, Jonathan Lewis, Mikey Lopez, Thomas McNamara, Maxi Moralez, Andrea Pirlo, Alexander Ring, John Stertzer, Chris Wingate.
Forwards : Jalen Brown, Jonathan Lewis ,Sean Okoli, Khiry Shelton, David Villa, Rodney Wallace.
---
NYCFC national TV schedule
---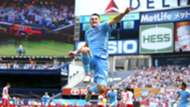 Orlando City vs. New York City FC - Sunday, March 5, at 5 p.m. ET on ESPN
D.C. United vs. New York City FC - Saturday, April 8, at 4 p.m. ET on UniMas
Philadelphia Union vs. New York City FC - Friday, April 14, at 7 p.m. ET on ESPN
New York City FC vs. Orlando City - Sunday, April 23, at 1:30 p.m. ET on FS1
New York City FC vs. Atlanta United - Sunday, May 7, at 4 p.m. ET on Univision
FC Dallas vs. New York City FC - Sunday, May 14, at 8 p.m. ET on FS1
Atlanta United vs. New York City FC - Sunday, May 28, at 5 p.m. ET on ESPN
New York City FC vs. Seattle Sounders - Saturday, June 17, at 1 p.m. ET on ESPN
New York Red Bulls vs. New York City FC - Saturday, June 24, at 1:30 p.m. ET on FOX
Vancouver Whitecaps vs. New York City FC - Wednesday, July 5, at 10 p.m. ET on TSN
New York City FC vs. Toronto FC - Wednesday, July 19, at 7:30 p.m. ET on TSN
Toronto FC vs. New York City FC - Sunday, July 30, at 2 p.m. ET on ESPN
New York City FC vs. New York Red Bulls - Sunday, Aug. 6, at 6 p.m. ET on FS1
LA Galaxy vs. New York City FC - Saturday, Aug. 12, at 10:30 p.m. ET on FS1
New York Red Bulls vs. New York City FC - Friday, Aug. 25, at 7 p.m. ET on ESPN
New York City FC vs. Houston Dynamo - Saturday, Sept. 23, at 3 p.m. ET on UniMas