MLS
New Montreal manager Garde says Vieira helped sell him on MLS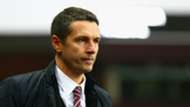 New Montreal Impact manager Remi Garde says his countryman Patrick Vieira helped convince him to coach in Major League Soccer.
Garde was unveiled as Montreal's new boss on Thursday, after the Impact fired Mauro Biello following the club missing the 2017 playoffs. 
New York City FC manager Vieira has experienced plenty of success in his two MLS seasons, and was a big factor in convincing his fellow Frenchman to join him.
"In the course of these discussions with him [Vieira] he told me a lot of good about the quality of the work he could accomplish here in this league, because it is a growing league," Garde said. "So it opened my mind. It ultimately got me interested, and then there was this contact with the Montreal Impact.
"What he told me about the MLS was important for me to hear, as well the connection with [Impact owner Joey] Saputo was good as well. I don't know, I had a good feeling and I think that it was a good opportunity for me to come to this club."
Garde coached Aston Villa for 20 games in 2015-16, when the club was still in the Premier League. Prior to coaching in England, Garde spent three seasons with Lyon.
"Since I left Lyon, I wanted new experiences," said Garde. "I had some offers since then.
"I always wanted to work abroad but I hadn't immediately thought of MLS."