Super League
Azraai out, Lemos in at N9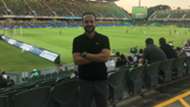 Portuguese Mario Lemos becomes the third head coach for Negeri Sembilan in 2018 after Jorg Steinebrunner and Azraai Khor Abdullah as the team attempts to negotiate their way to safety in the Super League. 
Azraai who was given the job as the back end of February but five matches later, with only two draws and three defeats, the 65-year-old has been given the boot by the Negeri Sembilan Football Association (PBNS).
Hiring Lemos is a brave move from PBNS considering his experience and young age of only 34 years. Lemos' experience includes the Bangladesh national team, amateur South Korean club TNT FC and assistant coach at Thai club, Muangthong United.
PBNS has also moved to make changes to the playing squad with the Renars Rode and Prak Mony Udom replaced by Alex Moraes and Davao Aguilas respectively. The team will also be boosted by the arrival of Australian born Malaysian, David Rowley.
Lemos will have the difficult task of salvaging Negeri Sembilan's season as they are currently in the last place in the Super League with only five points from nine matches played.
There are 13 more rounds of matches to go for the new man to halt the slide and keep the team from an immediate return to the Premier League.