Singida United
Ndayiragije ready to take over at Singida United despite no contact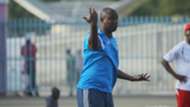 Former Mbao FC Boss, Etienne Ndayiragije insists he has had no contact with Singida United over the soon to be a vacant managerial position at Namfua Stadium.
Goal understand that, Singida United head coach Hans van Pluijm has signed a pre-contract with Azam and he will leave Namfua at the end of this season, with Ndayiragije one of the names on the reports to take over.
Speaking to Goal, the Burundian insists that he has had no contact with Singida United but if the chance is there he will be willing to join.
"I have had no contact with any one from the team, but I will consider very well their offer when it comes because Singida United is one of the great teams in the land," said Ndayiragije.
Ndayiragije terminated his contract with Mbao FC early on this month and he was one of the names mentioned to take over at Yanga before the Jangwani club decided to go for Congolese, Mwinyi Zahera.