Sulley Muntari
Muntari takes GFA to the cleaners over racist abuse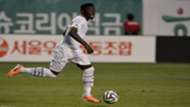 It was indeed a spectacle as suspended Ghana midfielder Sulley Muntari took a dig at the Football Association and its communications director Ibrahim Sannie Daara on live radio.
Speaking on Starr FM on Wednesday night, Muntari was dead furious about claims by the GFA that they called to show solidarity after his racist abuse in Italy last April.
"Sannie shouldn't try and call you or talk to you." Muntari told the host, after Sannie, who was apparently listening to the show, sent a text to rebut the midfielder's claims.
"People like that don't deserve anything. Where is he, how did he call you?
"Who called, Alex Asante [GFA official] called me? He said he called me? This guy..."
Muntari then went on to narrate his side of the story.
"You know what happened? I was home and Tony Baffoe [general secretary of the Professional Footballers Association of Ghana] wanted to talk to me and so he called me but couldn't get me, so he asked Alex to call me.
"Alex called but I didn't know it was Tony who had asked Alex to call me, but I'm really cool with Alex.
"I saw his missed call, so I called back and he said Tony was there and wanted to talk to me.
"After talking to Tony, Alex said 'president [Nyantakyi] is here, I want you to speak to him'. Is that a phone call, or a call passed on to him?
"Sannie should keep quiet and shouldn't lie to Ghanaians. He doesn't know anything about football. It's because of people like him that our football is falling behind."
While in Serie A away action against Cagliari, the Pescara midfielder was shown a yellow card by referee Daniele Minelli for dissent after complaining of racist chants directed at him by the home fans.
The 32-year-old then walked off the pitch in protest and anger, leaving his side to complete the game with 10 men, and apparently incurring another card.
Italian football authorities initially handed the Ghanaian a one-match suspension, before rescinding the decision following public outcry.