Bayern München
Muller praises Heynckes for 'uniting' Bayern Munich
Bayern Munich star Thomas Muller has hailed Jupp Heynckes for bringing the Bundesliga giants together after a difficult start to the season. 
The veteran coach was brought back for a third spell at the club after Carlo Ancelotti was sacked in September. 
Ancelotti's exit was preceded by widespread reports of unrest inside the Bavarians' ranks, and Muller affirms that his successor has brought the players closer together.
"A jolt went through the team. I don't know if Jupp Heynckes performed magic, but with the change of the coach responsibility was pushed onto the team," the Germany international told  Goal .
"We made individual mistakes, where even the best tactics in the world would not have helped. Jupp Heynckes managed, with his experience and his instincts, to make sure we were always united. 
"We won 1-0 three times in a row without dominating the opponents. So, there is clearly space to improve. In the big games we have to reach our best."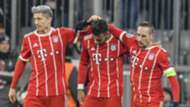 Perhaps Bayern's best performance so far this season came in the Champions League, where they inflicted a first and only group stage defeat on Paris Saint-Germain by winning 3-1.
The victory raised spirits after losing the corresponding fixture in Paris 3-0, but Muller insists that neither result should be over-analysed - least of all that 'dominant' win in the Allianz Arena. 
"What does dominant mean? In Paris we lost 3-0 and it was blown up into a major issue. Then we won 3-1 and it was blown up into a major issue again," he fired.
"It's a pity football is only about the result and the coverage became extreme in both directions. I can tell you a story about this. In one case two articles were put online by mistake after the Under-21 final we won: one completely a farewell to the German youth and one gushing praise!
"That's a joke. So, you see that the content which is presented to the fan is often far away from the football reality. For sure, we know the result is what counts in the end. But I cannot understand why the details of the game are often completely ignored."