Ligi kuu Bara
Mrisho Ngassa man of the match Ndanda vs Yanga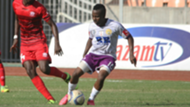 The varying twists and turns relating to Obrey Chirwa's status at Yanga may have commanded many of the headlines in recent weeks, but that has served to overshadow a vast improvement in Mrisho Ngassa's all-round game who came from the bench.
After a brilliant showdown former Yanga and Tanzania international Mrisho Ngassa was named a man of the match.
Pius Buswita became the first Yanga player to score a goal at the Nangwanda Stadium.
Yanga forward Pius Buswita, speaking after the match said the game was tough but worked hard to and it eventually paid off.
"We gave everything to get three points eventually we got them. We have to thank God for the victory," he said.
Ndanda FC captain Jacob Masawe said they accept the defeat as a motivation to win their next match.
"We were beaten today but we will make sure that we win the next match to improve our league position," he said.