Premier League
Morata in, Costa out? Why life without Diego would not be the end of the world for Chelsea
---
COMMENT
---
"I am sure about Diego's commitment," Chelsea boss Antonio Conte remarked following his striker being linked with a move to China last month. "I am sure about his behaviour, sure about his will to fight for this team to try and win the title."
Henry not counting on Arsenal role
Few were reassured by the Italian's comments; Costa has openly admitted that his future is away from Stamford Bridge, with a summer departure looking increasingly likely.
It was Conte's following line, then, following his decision to drop the Spain international from his squad for a fixture with Leicester that suggested things still weren't quite right between player and manager: "For sure, having the right spirit, this unity in the team, is fundamental if you want to win something. It's important to create this unity between the players, the staff, the club."
The Spain striker has enjoyed a fruitful campaign under his new boss thus far, netting 15 Premier League goals, and is unquestionably a major reason why the Blues are sitting so comfortably at the top of English football. 
Should Costa opt to leave Chelsea at the end of the season, however, whether it be to the riches of the Chinese Super League or a return to La Liga with former club Atletico Madrid, Conte can turn to a ready-made replacement in the shape of Alvaro Morata.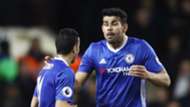 He has made no secret of his admiration of the Real Madrid forward. It was he, while in charge at Juventus, who persuaded the club's money men to secure his transfer from Real Madrid before the coach left to manage the Italian national team. Massimiliano Allegri was the beneficiary of the deal for two seasons before Real exercised their buy-back clause, though time back at the Santiago Bernabeu has again been limited for the Castilla graduate. 
'Hazard second only to Messi and Ronaldo'
Morata is firmly behind Karim Benzema in the Spanish capital and has started just six of Real's 19 La Liga fixtures so far this season, making an additional eight substitute appearances. He does, however, boast a more prolific goals-to-game ratio than his French club-mate.
Morata's six goals in 659 minutes averages to one every 110 minutes of top-flight action, while Benzema's five strikes in 968 minutes equates to a tally every 194 minutes. Costa, to draw comparison, has scored 15 times in the Premier League in 1948 minutes of football - a goal every 130 minutes.
Morata carries a similar confidence to Costa, though without the egotistical persona behind the performances. The Spaniard's tendency to drift into the wide areas, specifically the left side of the attack, would also prove a sizeable asset to Conte, who has instilled a flexible 3-4-3 formation since the club's heavy defeat to Arsenal in the early stages of the season.
Is Messi more boring than Ronaldo?
The freedom with which Eden Hazard is operating this season has seen the diminutive Belgian produce 10 goals and three assists for the west London club, and a flexible focal point is vital for the 25-year-old to thrive.
Costa's importance to Hazard cannot be understated, and his aggression far outweighs Morata's. However, the latter is far more mobile than his international team-mate and is almost tailor made for Conte's counter-attacking Chelsea side.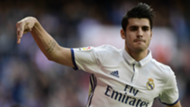 Morata knows it, too, with reports from Spain suggesting he is ready to join the former Juventus boss at Stamford Bridge. Once Conte's arrival at Chelsea was confirmed, the Blues hierarchy went about securing a deal to sign Morata, though it broke down when Zinedine Zidane ordered his return. 
The summer call was followed up by a winter one, with reports suggesting Conte made it clear to Morata in the January window that he would pave the way for him to join him in London once the season had finished.
Hazard vs Messi: The 2017-17 showdown 
Morata is in search for a permanent home in which he can develop his game without the excessive pressures that comes with a Real Madrid shirt, and under the tutelage of Antonio Conte the 24-year-old would have just that.
Swansea City's Fernando Llorente and Everton's Romelu Lukaku have also been highlighted as potential arrivals should Costa finally secure a move away from the club in the summer, though Conte needn't look further than Morata in his search for the perfect long-term replacement.