Johor Darul Ta'zim
Mora pleased with his charges despite a tired JDT performance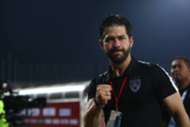 ---
 BY       OOI KIN FAI      Follow on Twitter
---
Despite their disappointment in being dumped out of the FA Cup by Pahang, Johor Darul Ta'zim (JDT) had no such problem in the Super League after they recorded their seventh consecutive league win to move five points clear at the top of the league.
JDT's 2-1 win over Penang on Wednesday night was achieved after early goals from Gonzalo Cabrera and Azamuddin Akil helped secured all three points despite some shoddy defending to allow the home side to pull a goal back before half time.
It was the period of the match when JDT got too comfortable with the lead and started to become sloppy with their game that Penang took advantage to reduce the lead. However, coach Benjamin Mora remained largely pleased with the performance despite a stuttering end to the first half.
"Always happy with three points. Every game is different and requires different things. We controlled the game from the beginning then we had a little gap. After we still controlled the game at the end and we managed to take three points from here," said Mora in an interview with the official broadcaster post game.
The Penang match was JDT's eight in the month of April and the gruelling fixture schedule seemed to have taken a toll on the players as their second half performance suggested. Despite being in total control of the match - it was more better game management from the reigning champions than a hallmark dominating performance.
Penang 1 JDT 2: Seven wins on the trot for Southern Tigers
With the AFC Cup match against Magwe FC coming up in a week's time, Mora will at least have the weekend free and that offers his players some time and space to recuperate. Mora went on to stress that he is prepared to make full use of his big squad if and when the situation calls for it.
"Yes, absolutely [to rotating squad]. We have 29 players who's willing to fight for JDT. My players have a lot of matches and they are tired of course. They need rest and recovery," added Mora.
It was a good night for the Southern Tigers as their closest title rivals only managed draws in their respective matches - Kedah and Pahang drawing 1-1 against Perak and Felda United respectively. 
"Perfect [the results]. Another joy for us. The Kedah result as well. We're adding. We have a culture of winning and winning the league is very important for JDT. We are focus 120% on winning for JDT," claimed Mora.
As for Marcos Antonio, he knew that his side weren't at the top of their game against Penang. JDT did well to regain back control after the half time break but Antonio is well aware that the drop in intensity towards the end of the first half sent alarm bells ringing.
"We know we need to improve a little bit more. But today it was important to get three points here. It's not easy to win here in Penang. We're top of the league but now we try improve and play better," said the JDT captain.