Arsenal
Modern Arsenal 'better' than Invincibles but too technical, says Vieira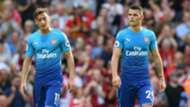 Arsenal have "better players" than the Invincibles of their past but need to better blend technique with physicality, says Patrick Vieira.
The Gunners hit a new low on Sunday as they were crushed 4-0 by Liverpool in a one-sided affair at Anfield.
Criticism of Arsene Wenger has mounted on the back of a dismal display, with his position at the club where he agreed a two-year extension earlier in the summer once again being questioned.
Former club captain Vieira, who is now in charge of MLS side New York City, has refused to be drawn into that debate and believes that Arsenal have enough quality at their disposal to play their way out of the slump.
The legendary Frenchman said: "The current Arsenal team, of course they want to win games. You don't go onto the field not wanting to win. It's just that the characteristic of the players is different now than it used to be before.
"I'm not one to say our generation was better than this generation. It doesn't make sense to compare the two generations because we are in a different period. The quality of the players are completely different.
"The team in our generation were more physical but this generation are better football players - there's no doubt about that. So the balance is what Arsenal need to find.
"If you look at Arsenal today I really enjoy watching them play, they play some really good football - but that is not enough to win football matches or to win competitions. But in our time we were winning and we had the strength to not play well but somehow manage to win the game 1-0.
"But you're not going to tell me [Mesut] Ozil is not a leader? You're not going to tell me [Alexis] Sanchez is not a leader? You're not going to tell me Petr Cech is not a leader. There's leaders in the team to challenge and they have the experience to win matches.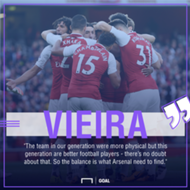 "But I think it's just the balance between players are different. If you look at our time, we managed to win games but sometimes we didn't play well. But we had this physicality to deal with certain situations.
"Now they are playing well, playing some really good football but they don't win. So that means the balance between physicality and technical creativity maybe needs to be looked at."
Arsenal have now suffered back-to-back defeats away from home in the Premier League to sit 16th in the early standings.
They will return to action after the international break with a visit to Emirates Stadium from Bournemouth on September 9.