Mexico
How will Mexico line up against Croatia?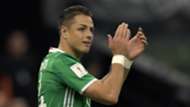 Update: Chcharito, Lozano announced as starters as Osorio tries out 3-4-3
The moment of truth has nearly arrived for Mexico. Tuesday's game against Croatia is the last time El Tri will take the field before Juan Carlos Osorio names his World Cup squad.
Osorio has his squad mostly decided but with Croatia sending six of its top players back to Europe, may use this game as one last opportunity to see players whose spot on the plane to Russia isn't so secure. 
As Goal does before each friendly match, we're going ot look at three possible alignments for Mexico heading into today's match.
Some things to take into consideration for our projection:
Javier "Chicharito" Hernandez and Guillermo Ochoa didn't play against Iceland, while Hirving Lozano and Carlos Vela came in as substitutes. They're very likely to get into the starting lineup.
Hector Herrera is out with an injury, and Jesus "Tecatito" Corona suffered an ankle issue and is reportedly unlikely to play.
Andres Guardado wasn't at 100 percent going into the Iceland game, according to Osorio, but still started the match.
With those disclaimers out of the way, let's take a look at a few potential lineups for Mexico in its final tune-up before Osorio names his World Cup squad:
---
Fresh Faces
---

Osorio hinted Monday that players like Jorge "Burrito" Hernandez, Edson Alvarez, Omar Govea and Jonathan Gonzalez could step into the starting XI, a lineup where Mexico can look at some of its future prospects and see if any of them are demanding to be taken to the World Cup with their play.
Maybe Govea gets into this lineup as well, but Osorio also spoke about the role the national team can play in boosting his players' confidence when they're not playing with their club teams. Fabian came in to prove his fitness and that he still has his level. Starting two matches in five days, especially if he's not going to be taken into consideration for Frankfurt, doesn't seem like a huge reach.
Alvarez could play in the midfield, but with right back a position of weakness for Mexico and the America defender holding the spot down for most of the Gold Cup, you'd think he would start there if given the opportunity. Miguel Layun vs. Jesus Gallardo at left back is a pick-em. You know Layun can play there. Gallardo can too but plays on the wings for his club so maybe Osorio would want him to get the minutes.
---
All out
---

With injury absences like Hector Herrera taken into account (and even if Jesus Corona was healthy), this may be the closest El Tri can get to what they'll put on the field in the World Cup. In fact, it seems like this or something similar would've been the lineup had Croatia not sent six players back to Europe after the 2-0 defeat to Peru.
With those players gone, it's more likely Guardado will rest after Osorio said he wasn't 100 percent going into the game against Iceland with Osorio hinting he'll now give minutes to players who he wasn't as concerned about seeing.
Maybe, though, he wants to put the gas pedal down and get off to a big start before he starts to work in the young players with his six substitutions. If so, this is a team that could do a fair amount of damage to Croatia with some of Mexico's best in the group.
---
Building on three
---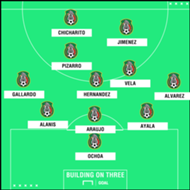 Osorio used a three-man back line against Iceland, and while it would be a surprise to see him roll that out against Germany, he said in the build-up to the match that no longer saw this as preparation for that game.
That could see him trial something like this lineup, with three center backs who are very accustomed to playing with a back four at the club level getting a chance to keep working on playing in a formation like this. Oswaldo Alanis, added to the lineup as a replacement, is on the fringe of a call-up. While he was in the Confederations Cup, it's tough to see him making it back to Russia. This would give him a chance to start attacks with his left foot and convince Osorio he needs to be at the tournament as Moreno's back-up.
Farther forward, Carlos Vela plays the more defensive role where Osorio has seen him lately, while Pizarro gets his last chance to move past Fabian on the depth chart. 
Osorio has spent plenty of time thinking about his plan for this game. What he ultimately decides will give us plenty of indications about where he sees his team four months from the biggest tournament he's ever coached in.