MLS
Media Microscope: Examining Major League Soccer's 2018 TV coverage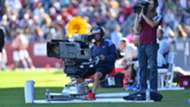 Major League Soccer's television ratings were up in 2017, and that counts as a small victory in a landscape that has recently not been kind to other professional sports leagues.
Of course, MLS still lags behind other professional sports leagues in the United States in terms of ratings, but growth of any kind in today's sports TV world counts as a minor win.
In order to maintain that growth, the league's two English-language American TV partners are looking to improve the quality and content in their broadcasts, while making plans outside of the match coverage itself to draw in more viewers on both linear and digital formats.
Ahead of the 2018 MLS season Goal spoke to coordinating producer of Fox Soccer Maleek Ndile, and ESPN's lead soccer producer Chris Alexopoulos about their networks' plans for the new season.
What stories will Fox and ESPN be looking to tell on the editorial side in 2018?
Ndile: I think LAFC is the big story out there. I think fans want to see how they're going to come into this league. They have a big coach who is a former national team coach in Bob Bradley, they have these shiny new digs right in the heart of downtown LA, it's LA so that's obviously a glamour story and then you have the ownership group – when you have names like Magic Johnson, Will Ferrell, Nomar Garciaparra, Mia Hamm, it's just a glamour club.
We're blessed to have the first LA derby between LAFC and the Galaxy (March 31 on Fox) so that's one of the highlights of our schedule.
Alexopoulos: For us LAFC coming into the league – it's who we have for our opener on Sunday (at Seattle, 5 p.m. ET on ESPN). The new team with a new stadium and a new fan base and the fantastic crowd will always get attention out of the box.
We have to be really smart about what we're saying about Columbus and what's happening there and whether they're going to move or not and how that's being reported. That's going to be a big story for us as we move forward.
I think an interesting thing that people have been talking about the last couple weeks are the gaps that are starting to form between the top of the league and the bottom of the league in terms of spending and the effect that that has on the field.
The fourth thing would be, is Zlatan Ibrahimovic going to come to MLS? What other big players are potentially coming throughout the year?
Ndile: The one thing that we brought to the league last year was what we did with expected goals and Opta. We kind of just crawled with that last year but this year I think we're going to try to be a little more out there with our Opta expected goals.
We're going to try and get that in productions live as the games are going on so fans can see and really understand what expected goals is, so we're going to really try and integrate that into our productions more.
What innovations will Fox and ESPN be looking to use on the technical side in 2018?
Ndile: Another thing that will add to our productions is the Movi cam, which is a stabilizing handheld camera [that] allows us to get really clear and good shots of walkouts and some low-angle field shots, whether it be corner kicks, behind the goal.  
It allows us to push the boundaries that you don't really get to see with a handheld camera, so we're really excited to be able to use the Movi cam a little bit more this season. We started with it two years ago but now we're going to see a little bit more of it.
Click HERE for examples of Fox's usage of the Movi cam in MLS broadcasts.
Alexopoulos: From a technology standpoint we still are really proud of our goalpost cameras. We're the only broadcaster in the entire world that does this. For us it's something that continues to pay dividends as we use it more and more.
MLS 9/11/16 Goal post cam from Chris on Vimeo.
I think the one thing we will do a little bit more of this year is we're going to use a few more POV cameras in interesting places. We have six POV cameras, four of which are in the goalposts and two of which are in the back of the goal that you stick through the net. So we have the goal covered and I think our biggest thing this year is that we're adding another POV camera and potentially more than that.
We're going to be playing around with where that sits and how it can best help the viewer. Major League Soccer gives us a lot of leeway to try new things as long as it doesn't impede on the actual game coverage. In England, you can't put a camera in a place that isn't really standard. You can't just say, 'We're going to try this' and this camera is going to be on the endline on a 20-foot pole looking down right over the goal. That's something that we'd like to try this year with one of our POVs.
Cue Ball POV from Chris on Vimeo.
For ESPN, the biggest change this season is the integration of the MLS Live platform into the new streaming ESPN+ service. The MLS Live service was priced at $79 a year, while the new ESPN streaming product will be $5 a month, or $60 annually.
ESPN will now have the exclusive streaming rights to all out-of-market MLS games, and subscribers to ESPN+ will have access to additional soccer content, as well as other sports on the ESPN+ platform.
Alexopoulos: I think that's the biggest thing that will be different from ESPN this year is taking that package and seeing what additional content will come through that package and how that changes the availability and coverage.
For the first time, Fox will have the broadcast rights to the World Cup this summer. The network is hoping to receive a major ratings boost when they feature five MLS games on over-the-air Fox over the course of four weekends, all of which will have World Cup matches as lead-ins – including the World Cup final followed by Atlanta United vs. Seattle on July 15. 
How Fox integrates MLS promotion in its World Cup coverage will be a key aspect of how much of a ratings boost it gets.
Ndile: We're excited that we're going to be able to weave our MLS coverage into what we're doing with the World Cup. We'll do our World Cup coverage and once the matches start to conclude we'll definitely be trying to integrate wherever we are for the MLS game into the production to let fans know that you can continue your soccer fix on the network.
We're in great sites for those games – we're in Atlanta, we're in Seattle, we're in Toronto. We want to show those crazy fan bases and sort of weave that into our World Cup coverage. It's going to be a natural fit that soccer fans are going to be able to continue their day with MLS and I think that's an added thing for the league.
We're hoping we're going to see a big bump in numbers for those games. When you talk about a World Cup, you're talking about not just soccer fans, you're talking about casual fans who just want to be a part of the event and the spectacle and we're going to carry those viewers on to what we're doing with our MLS coverage as well.