Manchester United
Man Utd savaged by club legend Ince: 'They have no players I enjoy watching'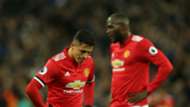 Manchester United have no players to excite and entertain, claims Paul Ince, with another "exodus" of talent expected come the summer.
The Red Devils sit second in the Premier League table and are through to the FA Cup semi-finals, but they have done little to impress the purists under Jose Mourinho.
Ince is among those who feel a once dominant force is stagnating, with there only one "world class" star at Old Trafford and too many passengers.
The former United midfielder told Paddy Power: "Right now, who is excited to see the sort of football United are playing? No one.
"I'd even go as far as to say there are no United players I enjoy watching. Maybe [Paul] Pogba or [Marcus] Rashford if they are on their day.
"Their only world class player is David De Gea. Apart from that, there's no one else. There's a lot of work to be done at Old Trafford.
"The Louis Van Gaal and David Moyes eras were huge setbacks, and it's Mourinho's job to repair that damage."
United have already backed Mourinho in the transfer market, with £89 million invested in Pogba and a further £75m in Romelu Lukaku.
Ince is expecting there to be further changes when the transfer window re-opens, but has warned the Red Devils that their appeal to the very best players on the planet is waning.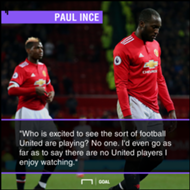 The ex-England international added: "Cash aside, it's also about attracting the right players.
"It's evident that Mourinho hasn't got the team that he wants, and there's likely to be an exodus come the transfer window.
"But right now, do you think a player would seriously choose to go to Old Trafford ahead of City, based on the football being played?
"There's a certain expectation of a Man United team. That they're exciting, attacking and incredible to watch.
"Right now, they are none of those things. But City, Liverpool and Tottenham are. The fact is, the best players in the world want to play the best football. "
Paul Ince was speaking exclusively to Paddy Power News. To read more, visit news.paddypower.com.