Southeast Asian Games
Man of the Match: Singapore 1-2 Malaysia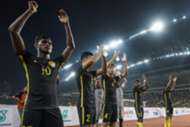 In their Group A SEA Games match against Singapore on Wednesday, Malaysia's main problem persisted. Despite dominating possession from the beginning, Datuk Ong Kim Swee's charges struggled to convert their chances, just like in their clash against Brunei on Monday.
As a result, it was their Causeway rivals who opened the scoring in the 38th minute, with Amiruldin Nodin curled the ball in from outside the box.
At the start of the second half, Ong immediately made changes, bringing on midfielder Nor Azam Abdul Azih and forward Thanabalan Nadarajah for Syahmi Safari and Amirul Hisyam Awang Kechik. These two men would end the night with their names on the scoresheet, but it was the former who shined the brightest to guide the hosts to a fine come-from-behind against their fiercest rivals.
After he was brought on, the Pahang midfielder made sure he dictated the play, by holding the ball and taking on the defenders.
His inclusion also provided more edge to Malaysia's attack, which ultimately gave the hosts the edge. With Richard Tardy's men deciding to sit back and defend their slim lead, Azam was allowed the space to push further up, when receiving and making passes.
This had an effect on another player. With Azam also acting as an extra man in the final third, winger Safawi Rasid, another of the Young Tigers' outstanding performers of the night, was free to penetrate the Singaporean defence from the left, and the JDT man shined there.
In the 68th minute, the two men combined to find the equaliser. Safawi drew a defender to him to the left, and smartly passed the ball to Azam at the edge of the Singapore penalty area. Azam took one touch, and smashed the ball in at the near post past goalkeeper Zharfan Rohaizad, to send the crowd into seventh heaven.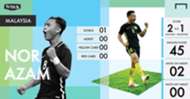 Just four minutes later, it was Thanabalan's turn to send the crowd into rapture when he pounced on a stray ball to score the winning goal.
Ong's charges could have ended the night on a different note, had it not been for Azam's game-changing introduction in the second half. Now the hosts are second in the group, tied on points with Myanmar whom they will face next, on Monday.