Manchester City
'Man City have clearly paid the ref!' - Fans fume at Sterling 'offside' goal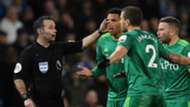 The shoe is on the other foot for Manchester City and Liverpool fans.
Weeks after Man City fans were up in arms over James Milner assisting a Sadio Mane goal despite appearing to be clearly offside , Liverpool supporters have their own reason to be upset.
With the reigning Premier League champions up by a point on Liverpool coming into the action this weekend, there is a sense that every point could be crucial. And when Watford held Man City scoreless through 45 minutes, Red fans were hopeful the champions might drop points.
But early in the second half, Raheem Sterling opened the scoring to put Man City up 1-0 under controversial circumstances.
Sergio Aguero appeared to deflect a pass into the path of Sterling, who was in an offside position. Watford defender Daryl Janmaat appeared to try to clear the pass, which the nearby Sterling re-directed into the net.
The goal was initially ruled offside, but the linesman was overruled by the referee and the goal was given.
Was Sterling onside because the defender played the ball, or was he offside because the ball was played to him, while he was off, and he impacted the play?
Fans had plenty to say on the matter:
I can't get my head around that one, that's surely offside?! When Aguero played it to Sterling, Sterling was offside. Is it some kind of second phase of play because a defender touched it before Sterling? Did he even play it before Sterling did? Surely just offside?! Anyway, 1-0

— Sam Lee (@Sammy_Goal) March 9, 2019
The assistant flagged for offside then the ref went over and asked him "Do you want Liverpool to win the league?" Goal given. 1-0.

— Paddy (@VieiraPaddy) March 9, 2019
Did the referee seriously just overrule his linesman on an offside call?

Do my eyes deceive me?

— Fields Of Anfield Road (@FOARsite) March 9, 2019
Man City scoring their 10th offside goal of the season but apparently the FA wants Liverpool to win the league 🤷🏻‍♂️

— JP (@JurgenPressed) March 9, 2019
How does this goal count? Sterling clearly offside, interfering with the defender, therefore offside🤦🏻‍♂️

— Daniel Bachmann (@DBachmann1) March 9, 2019
Hasn't been a great week for the offside rule, it must be said

— Michael Cox (@Zonal_Marking) March 9, 2019
GOAL GIVEN!!

That was a stonewall offside...

— Footy Accumulators (@FootyAccums) March 9, 2019
GOOOOOOAAAAAAAAL! Sterling was offside, but we have clearly paid the ref! 😂

— City Chief ️ (@City_Chief) March 9, 2019
The linesman, whose job is to spot offside, blows correctly for offside. Referee, who cannot see if it's offside, decides to overrule him and allow the goal.

— Joel Rabinowitz (@joel_archie) March 9, 2019
The standard of officiating this weekend 😂 Pickford red, Newcastle players offside, that City goal and more. I get the reservations some have with VAR but these clowns need all the help they can get.

— Ste Hoare (@stehoare) March 9, 2019
Sterling is in an offside position and the ball is being played *to him* how is there any definition of interfering with play that doesn't include that?

— Mike L. Goodman (@TheM_L_G) March 9, 2019
Remember those days when only people who never watched football didn't understand offside decisions?

— Simon Evans (@sgevans) March 9, 2019