FA Cup
Pahang 0 JDT 0: 5 talking points - A game of nullifying components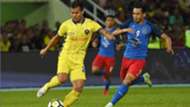 It was billed as one of the big games of the Malaysia football season in 2018, the repeat of the FA Cup encounter between the two teams from last season. JDT want to exact a form of revenge on Pahang for knocking them out in the same competition a year ago while the latter wants to prove that they are able to once again compete.
The match ultimately proved to be a disappointment considering the excitement that was built up, leading to it. There are many interesting facets of the match to mull over but in the general context, both teams nullified each other and left it all to play for in the return leg in Johor Bahru.
We pick the five major talking points from a match where neither side managed to find their attacking groove in the 0-0 stalemate.
On-form Muslim is Malaysia's best centre back
Shahrul Saad and Irfan Zakaria are rightly earning the accolades after their display for Malaysia in the recent bout of international matches but Tan Cheng Hoe should contemplate starting to look at how he can incorporate Muslim Ahmad back into the national team fold.
A commanding presence at the heart of Pahang's defence, Muslim together with Afif Amiruddin thwarted the attacking endeavours that JDT threw at them. Strong in the air and reads the game very well, Muslim kept Hazwan Bakri in the back of his pocket for the entire match. 
Once part of the famous back line that won Malaysia the AFF Championship, ironically with the man at the opposite end of him tonight, Muslim has not find himself in favour of the national team head coaches. But his display this season, not only from this match should warrant at least another chance at international reckoning.

(C) Johor Southern Tigers
Battle of the Singaporeans
Starting on opposite end of each other, both in the midfield destroyer role, Safuwan Baharudin and Hariss Harun went up against each other looking to do the same job description required from their respective coaches. And both executed it effectively without much fuss.
From their positions, both Safuwan and Hariss rarely directly competed against each other but both had a commendable match where they fought hard to ensure that their defence get sufficient protection. 
Of the two, Safuwan probably did a little better considering that he was in a midfield two with Nor Azam Azih and had to content with the duo of Safiq Rahim and Igancio 'Natxo' Insa while Hariss' job mostly centered around ensuring that Mohamadou Sumareh doesn't get to isolate any of JDT's centre backs.
Paucity of game-changing options from the bench
At the start of the second half, after a tough and combative first half, neither coaches made any change to their line-ups. As the game went on in the second period and both teams become increasingly frustrating with their approach to find the winning goal in th first leg, Dollah Salleh and Raul Longhi were left with little options to influence the game.
Wan Zaharulnizam and R. Kogileswaran were called upon by the home side to replace Faisal Halim and Chan Vathanaka respectively while JDT opted to have Nicolas Fernandez and Syafiq Ahmad replacing Safawi Rasid and Hazwan Bakri.
It's fair to say that the impact from the four substitutes were negligible in the sense that they were either replacing injured or tired players and kept to the same positions Dollah and Longhi just didn't have enough quality from the bench to change the game. 

(C) Johor Southern Tigers
Sumareh excites as much as he disappoints
To be clear, any football fan would be excited to see Sumareh in action. For the Pahang fans, there must be a sense of expectancy every time Sumareh gets on the ball and put on the afterburners. Yet, the Pahang forward is very much a player that's on both ends of the spectrum.
Tightly marked by the JDT defence when initially played in the central striking role, Sumareh didn't looked comfortable and struggled to comply with the style of play in that position which required immaculate close control and physical battle.
When pushed out wide late in the second half, Sumareh showed more what he's capable of but for all the fear of JDT's defenders at the sight of Sumareh running at them, the final balls from the Pahang player proved to be abysmal. 
Southern Tigers lacking bite up front
No Luciano Figueroa and with some time to go before the new striker is brough in through the mid-season transfer window, JDT look set to continue to have a testing time from an attacking point of view. Tried as he might, Hazwan just do not offer enough variety nor threat to a discipline defence as Pahang showed tonight.
Mobility is not one of Hazwan's strong traits and that was a major stumbling block when they have the likes of Safiq and Insa in their ranks, both players capable of threading passes to good movement up front.
That left JDT mostly relying on the efforts of Safawi and Gonzalo Cabrera from the wider positions that were easily crowded out with double-team marking from the home side. Safiq was pushed further up front in support of Hazwan, he's unable to direct the game from a deeper position, and JDT looked short of ideas on how to penetrate Pahang's defence.