Orlando Pirates
Mahlatse Makudubela: Why I left Orlando Pirates for Chippa United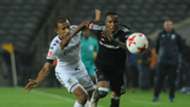 Chippa United midfielder Mahlatse Makudubela has revealed why he had to leave Orlando Pirates.
The attacking midfielder secured a season-long loan move to Chippa from Pirates prior to the current campaign.
Makudubela made his debut for the Chilli Boys as they drew 1-1 in a PSL match in Durban two weeks ago.
"It was such a great feeling to finally get some game-time. I had one or two opportunities to score, but I could not, and I know that with confidence I will do more for the team," Makudubela told Chippa's official website. 
"In football, you will never stop learning, and I am learning a lot from the current coach. I am excited to be down here in Port Elizabeth to continue with my development, it's been a long time coming," he added.
Makudubela also diclosed that the Chilli Boys were keen to sign him and that he joined the club because of Dan Malesela, who has since been replaced by Teboho Moloi as Chippa coach.
"A while ago the Chairman (Siviwe Mpengesi ) and Mr (Peter) Koutroulis (General Manager) asked me to come join the team, but it did not happen, and when an opportunity was presented to me to come, I did not think twice," Makudubela continued.
"My decision was made easier because I knew Coach Dan, and also liked the brand of football Chippa United is playing," he concluded.  
Meanwhile, Maritzburg United have stated that their request to have their league away to Chippa on Wednesday postponed, has been rejected by the PSL.
The Pietermaritzburg-based club are mourning the passing of their player Mlondi Dlamini, who died in a car accident last weekend.
Quinton Jettoo, the Maritzburg, public relations officer, told Daily Sun that they wanted to postpone their match to give their players time to process the traumatic experience.
"We applied to the league to have our match against Chippa postponed but it was rejected. The reason the league gave us was that the match was in the following week already. If it had been a weekend match our request would have been granted. So this means the match will go ahead as schedule," he said.
The 20-year-old's passing comes just over 20 months after striker Mondli Cele died in a similar way.
"The experience has taught us to be strong under such circumstances. Players are looking at us and we have be strong for their sake. We took them to meet Mlondi's family on Tuesday," he added.
"It always sad to go through such an experience and also to see a young player like Mlondi leaving us this way. He had a bright future ahead of him. It's really sad," Jettoo concluded.
Dlamini's memorial service was held at AF Wood Hall in Pietermaritzburg on Thursday. The funeral will be held at Mpophomeni Community Hall in Howick on Saturday and starts at 9am.