Joachim Löw
Low not offered €50 million to become China coach - says Chinese Football Association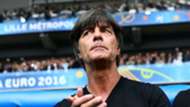 Germany head coach Joachim Low has not been offered a €50 million contract to become China's next coach, according to the country's football association.
Messi lookalike causes stir in Iran
Spanish newspaper AS had claimed that the Chinese Football Association were planning to bring in Low as a replacement for current coach Marcello Lippi.
However, the CFA has placed its trust in Lippi and is not trying to tempt World Cup-winning coach Low, who has been at the Germany helm since 2006, to Asia.
Lippi is struggling in his mission to qualify China for the World Cup in 2018 and, with the current rise in interest in Chinese football, there have been rumours the veteran Italian could be replaced.
At a press conference, the CFA announced: "In response to the reports that have been published by the foreign media regarding Joachim Low, we would like to clarify that the information is not true.
"Marcello Lippi, a world-class coach, is the current coach of the Chinese national team. And the CFA have complete and unwavering trust in Lippi's coaching."