African All Stars
Salah is obsessed with scoring goals, says Jamie Carragher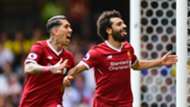 Jamie Carragher has tipped Liverpool forward Mohamed Salah to score more goals this season with his style of play.
The former England international said he is hoping to see the former Chelsea and Basel frontman reach double figures for the Jurgen Klopp's men in the league this season as he plays from the wings.
The 25-year-old attacker who scored 15 times in 31 Serie A games for Roma last campaign, was on song for the Reds in his debut league game as they settled for a 3-3 draw against Watford in the Vicarage Road on Saturday.
"He's a wide man who looks obsessed with scoring goals in terms of making that run to put himself through, and the big thing about wide players," Carragher told SkySports.
"If you want to be successful you've got to be getting double figures. Certainly at a top club.
"There's too many wide players who will go a season scoring one or two goals, and the reason is because they hug the touchline, but never come away from the touchline.
"At times I've said I'd like him maybe to come a little bit wider, just to create that space.People may work him out if he plays so narrow, [then] there's no space to run.
"But there's no doubt with him and Mane on the other side, not classic wingers getting down the line and getting crosses in, those two players will score goals as we saw at the weekend."