Liverpool
'Liverpool can achieve something special' - Van Dijk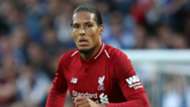 Liverpool centre-back Virgil van Dijk believes that the Reds will be able to channel the hurt of losing the Champions League final in Kiev into a successful Premier League campaign, praising the club as "something special".
Jurgen Klopp's side were beaten 3-1 by Real Madrid at the NSC Olimpiyskiy Stadium in May, with Sadio Mane's sole strike unable to overcome goals from Karim Benzema and Gareth Bale.
But Van Dijk, who is gearing up for his first full season at Anfield following his January transfer from Southampton, is confident that the team will be able to turn the pain of their defeat into tangible results.
"You get reminded by social media, people who you meet on holiday who come and say (that) it's a shame it went the other way," the Dutchman told Goal.
"We showed what we are capable of and we need to build on that. We need to take it with us and use it as experience. It's going to be a very hard, tough season but we will see how it goes.
"Everybody in the squad has ambitions, the club has ambitions and we need to just show it on the pitch. We'll try to achieve something special this year."
The Reds have spent big in the current transfer window, bringing in goalkeeper Alisson alongside midfield pair Naby Keita and Fabinho, plus winger Xherdan Shaqiri to the tune of £171.3 million ($225m) and Van Dijk believes they will help bolster the chance of success on Merseyside as the club goes in search of a first top-flight title since 1990.
"Over the last couple of years in the Premier League, it's been tight," he added. "Anyone can win from anyone and that's the beauty of the game.
"The players we have brought it, (they) have personality. That helps us as well; everyone wants to help you and it makes life easier for you straight away. It's all a big family.
"I think it's a very exciting time to be a Liverpool player and a Liverpool fan. Hopefully we are going to do something special, but we are not looking too far ahead. We need to focus on the present, work hard and be humble."
Liverpool concluded their 2018 International Champions Cup campaign with a 4-1 win over Manchester United on Saturday in Ann Arbor in front of a crowd of 101,254.
They face Napoli in Dublin and then host Torino in their final two pre-season games before kicking off their Premier League campaign at home to West Ham.