A-League
Live football on Australian TV: Match schedule this week, online streams and free-to-air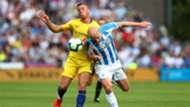 A busy weekend of club football awaits with a number of Aussies in action on a screen near you.
To kick things off on Saturday night, Socceroos skipper Mile Jedinak will be hoping to help Aston Villa continue their push for promotion against Sheffield Wednesday.
At the same time, Aaron Mooy's Huddersfield will travel to Leicester looking for their first Premier League win of the season.
Late on Sunday night, Tom Rogic is set to be front and centre as Celtic take on Kilmarnock with Daniel Arzani also pushing for selection after scoring for the Hoops academy side. 
Zlatan Ibrahimovic then awaits Brad Smith's Seattle on Monday morning with the Australian defender set for a busy game trying to keep the Swedish striker quiet. 
Here's Goal's comprehensive list of all the football on TV in the Australia across the weekend, including some that you can watch for free and live stream.
---
All live football matches on Australian TV this week
---
Saturday September 22
| Match | Competition | Kick-off time (AEST) | Channel |
| --- | --- | --- | --- |
| Bursaspor v Basaksehir | Super Lig | 02:55 | beIN Sports Connect |
| Stuttgart v Dusseldorf | Bundesliga | 04:20 | beIN Sports 1 |
| Sassuolo v Empoli | Serie A | 04:20 | beIN Sports Connect |
| Wigan v Bristol City | EFL | 04:45 | beIN Sports 2 |
| Monaco v Nimes | Ligue 1 | 4.40 | beIN Sports 3 |
| Huesca v Sociedad | La Liga | 4.45 | beIN Sports Connect |
| Rayo v Alaves | La Liga | 20.55 | beIN Sports 2 |
| Fulham v Watford | Premier League | 21:30 | Optus Sport |
| Parma v Cagliari | Serie A  | 22.50 | beIN Sports 1 |
| Hoffenheim v Dortmund | Bundesliga | 23.20 | beIN Sports 3 |
| Hertha v Monchengladbach | Bundesliga | 23.25 | beIN Sports Connect |
| Augsburg v Bremen | Bundesliga | 23.25 | beIN Sports Connect |
| Wolfsburg v Freiburg | Bundesliga | 23.25 | beIN Sports Connect |
| Nurnberg v Hannover | Bundesliga | 23.25 | beIN Sports Connect |
| Aston Villa v Sheffield Wednesday | EFL | 23.55 | beIN Sports 2 |
Sunday September 23
| Match | Competition | Kick-off time (AEST) | Channel |
| --- | --- | --- | --- |
| Leicester v Huddersfield | English Premier League | 00:00 | Optus Sport |
| Liverpool v Southampton | English Premier League | 00:00 | Optus Sport |
| Manchester United v Wolverhampton | English Premier League | 00:00 | Optus Sport |
| Burnley v Bournemouth | English Premier League | 00:00 | Optus Sport |
| Cardiff City v Manchester City | English Premier League | 00:00 | Optus Sport |
| Crystal Palace v Newcastle United  | English Premier League | 00:00 | Optus Sport |
| Celta v Valladolid | La Liga | 00:10 | beIN Sports Connect |
| Eibar v Leganes | La Liga | 00:10 | beIN Sports Connect |
| Lille v Nantes | Ligue 1 | 00:55 | beIN Sports Connect |
| Fiorentina v SPAL | Serie A | 01:50 | beIN Sports 1 |
| Trabsozspor v Goztepe | Super Lig | 01:55 | beIN Sports Connect |
| Schalke v Bayern | Bundesliga | 02:20 | beIN Sports 2 |
| QPR v Norwich | EFL | 02:25 | beIN Sports 3 |
| Getafe v Atletico | La Liga | 02:25 | beIN Sports Connect |
| Brighton and Hove Albion v Tottenham | Premier League | 02:30 | Optus Sport |
| St Etienne v Caen | Ligue 1 | 03:55 | beIN Sports 1 |
| Sampdoria v Inter | Serie A | 04:25 | beIN Sports 3 |
| Real Madrid v Espanyol | Serie A | 04:40 | beIN Sports 2 |
| Sao Paulo v America MG | Brasileirao | 04:55 | beIN Sports Connect |
| LAFC v San Jose | MLS | 05:55 | beIN Sports 1 |
| NY Red Bulls v Toronto | MLS | 07:05 | beIN Sports 3 |
| Atlanta v Real Salt Lake | MLS | 09:00 | beIN Sports Connect |
| Montreal v New York City | MLS | 09:35 | beIN Sports 3 |
| New England v Chicago | MLS | 09:35 | beIN Sports Connect |
| Columbus v Colorado | MLS | 09:35 | beIN Sports Connect |
| Orlando v Houston | MLS | 09:35 | beIN Sports Connect |
| Minnesota v Portland | MLS | 10:05 | beIN Sports 1 |
| Levante v Sevilla  | La Liga | 19:55 | beIN Sports 3 |
| Torino v Napoli | Serie A | 20:20 | beIN Sports 1 |
| Kilmarnock v Celtic | SPFL | 21:25 | beIN Sports 2 |
| West Ham v Chelsea  | Premier League | 22:30 | Optus Sport |
| Bologna v Roma | Serie A | 22:50 | beIN Sports 1 |
| Chievo v Udinese | Serie A | 22:50 | beIN Sports Connect |
| Lazio v Genoa | Serie A | 22:50 | beIN Sports Connect |
| Rennes v PSG | Ligue 1 | 22:55 | beIN Sports 3 |
| Leverkusen v Mains | Bundesliga | 23:25 | beIN Sports Connect |
Monday September 24
| Match | Competition | Kick-off time (AEST) | Channel |
| --- | --- | --- | --- |
| Villarreal v Valencia | La Liga | 00:10 | beIN Sports 2 |
| Guingamp v Bordeaux | Ligue 1 | 00:55 | beIN Sports Connect |
| Arsenal v Everton | Premier League | 01:00 | Optus Sport |
| Milan v Atalanta | Serie A | 01:50 | beIN Sports 1 |
| Frankfurt v Leipzig | Bundesliga | 01:50 | beIN Sports 3 |
| Akhisarspor v Galatasaray | Super Lig | 01:55 | beIN Sports Connect |
| Real Betis v Athletic | La Liga | 02:25 | beIN Sports 2 |
| Frosinone v Juventus | Serie A | 04:30 | beIN Sports 1 |
| Barcelona v Girona | La Liga | 04.40 | beIN Sports 2 |
| Lyon v Marseille | Ligue 1 | 04:55 | beIN Sports 3 |
| Boca Juniors v River Plate | SuperLiga | 06:45 | beIN Sports 1 |
| Vancouver v Dallas | MLS | 09:05 | beIN Sports Connect |
| LA Galaxy v Seattle | MLS | 09:10 | beIN Sports 1 |