Liga MX
Liga MX Talking Points: Cruz Azul's optimism and America needing luck lead Week 2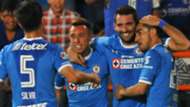 Liga MX got started last weekend - yes, already - but the distractions of the Gold Cup, European friendly matches and the transfer market may be helpful to avoid the snap judgments it's all too easy to make about teams before they're even fully formed.
Still, with only 17 rounds in the regular season, early results are important. While teams are still looking to get stronger in the market or get players back to full fitness, the results this weekend and the one that preceded it could be the difference between playoffs or an early Christmas break.
As we do each week on Goal, we're going to take a look at the biggest stories heading into the round. Here's what to watch for in Jornada 2:
---
It's a big weekend for ... Paco Jemez
---

Six long tournaments and Cruz Azul still doesn't have a playoff berth to show for it, but there's optimism once again in the Estadio Azul. Paco Jemez took his team into Estadio Caliente and came out with a 2-0 win thanks to a double from new winger Edgar Mendez. La Maquina then got a midweek Copa MX draw.
Now, the team is set to be welcomed home Saturday by a sold-out crowd, though some fans certainly will be there to cheer on Chivas. But it's a good time for Cruz Azul to be meeting the reigning champion. Alan Pulido is out for months, while Oswaldo Alanis and Jose Juan "Gallito" Vazquez still aren't able to play after injuries in the Campeon de Campeones preseason match. And while the team's five players from the Gold Cup are back, it remains to be seen if Orbelin Pineda or Jair Pereira will click with their teammates.
For Cruz Azul, Edgar obviously had a successful start and Chilean forward Felipe Mora made his debut in the midweek cup match. The moment is there for Cruz Azul to capitalize on a hot start and get a bit of momentum going heading into the season. The pressure is on for Jemez, thoguh. A loss to Chivas followed by a few more adverse results could send the team spiraling toward a seventh straight disappointment.
---
Game of the Week ... Pachuca vs. America
---

It wasn't long ago these two teams met in the final round of the season, a 3-2 win for Pachuca in a wild match that ended up keeping both teams out of the Liguilla. Missing the playoffs is well below both teams' standards, and the showdown in Estadio Hidalgo should provide the best chance for both a dramatic game and a meaningful result.
Chicharito turned down Italy and Spain
Club America is getting closer to full strength, and defender Edson Alvarez's return from the Gold Cup could be very helpful for an America back line that can use his experience, despite only being 19 years old. Pachuca gets a Gold Cup boost too, though, with center back Omar Gonzalez fresh off the title with the United States, though he may get a rest after playing Wednesday. 
Pachuca coach Diego Alonso said after his team's defeat to Pumas that the side deserved more from the game. He's right, but Tuzos have to fix the issues that plagued them in the league last season - and really elevate their level even more if they're truly going to hang at the Club World Cup in December. Edson Puch will take time to adapt and Keisuke Honda is still weeks away from seeing the field. The team boasts a 34-match unbeaten streak at home in all competitions and won't easily give that up, but Miguel Herrera will do everything possible to get his first win since he returned to manage Las Aguilas.
---
Keep an eye out for ... a Northern grudge match
---

Tigres fans have a reputation for traveling en masse to away matches, and a trip to Torreon for Saturday's match against Santos Laguna is the quickest trip fans can make apart from the one just across town to face Monterrey. So it's no surprise that Santos is bracing for an invasion of fans clad in yellow shirts and waving blue flags.
Far more concerning for coach Chepo de la Torre, though, is the amount of talent Tigres will put on the field at the Estadio Corona. Tigres' 5-0 thrashing of Puebla doesn't score well on the "Seems like it could be a trend and not a Week One anomaly" scale, but De La Torre can't ignore Enner Valencia's hat trick in his Liga MX return. 
Nor can he ignore that shortly after his team fell just short of setting a record for most draws in a short season, they went to newly promoted Lobos BUAP and again settled for just a point when three could've been on the table.
A victory would be a big statement for Santos that it can be a contender this season, turning draws into victory. It won't be easy against Valencia, Andre-Pierre Gignac and the rest of Tigres' star front line, while the traditionally solid defense looks to be acclimated to its new system as well.
---
Quote of the Week
---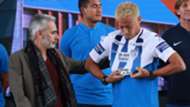 I heard that I need 3 to 4 weeks but I think that I can come back earlier than expected. I feel good.

— KeisukeHonda(本田圭佑) (@kskgroup2017) July 24, 2017
After Pachuca coach Diego Alonso said in a news conference that Pachuca's biggest summer signing would need more time to adapt to the team, Honda himself said he hopes his adaptation won't take that long. Following Tuzos' loss to Pumas on Sunday, Alonso said the former Milan midfielder is trying to bounce back from irritation in his leg muscles and then will need to get up to speed with the rest of the team.