Premier League
How sweary Oasis frontman Liam Gallagher consoled Southgate after Euro '96 penalty miss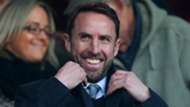 Liam Gallagher was the first person to console Gareth Southgate after his penalty miss during England's shootout loss to Germany at Euro 1996, and did so in his own inimitable style!
NxGn: The 50 best talents under 19
The two teams went head-to-head again on Wednesday, with Lukas Podolski's brilliant long-range goal proving decisive, in his last ever international game.
The match served as a glorified testimonial for Podolski, but the encounter in 1996 – which ended 1-1 after 120 minutes – had a little more riding on it.
Southgate's miss was decisive in the shootout, but Gallagher, the famously outspoken rock star, was proud of the former Middlesbrough boss for having the "bollocks" to step up and take the shot.
Recalling the incident on BBC Radio 5 Live, former Republic of Ireland international Andy Townsend, who was about to commiserate his friend, said: "Don't f***ing worry about it because at least you had the bollocks to go up and take it, those other f***ers, they didn't want to f***ing know."
"He literally said that, and I said [to Southgate]: 'Actually, in as many words mate that was what I was going to tell you!'"