Simba
Lechantre: Niyonzima is fit to start against Mtibwa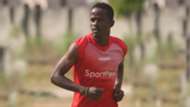 Simba's Head Coach, Pierre Lechantre has revealed that Haruna Niyonzima is fit to start their next league match against Mtibwa Sugar.
Niyonzima returned to action on Tuesday against Njombe Mji, after five months on the sidelines due to an ankle injury.
Speaking to Goal , Lechantre said that Niyonzima's recovery is going well and he will be in contention for a starting spot against Mtibwa Sugar on April 9.
"He is a professional player who knows that football is his job, his recovery is far better than anticipated and he impressed a lot when he came in as a substitute against Njombe Mji, so he will be in contention for a starting spot in the coming match," said Lechantre.
Simba will be without James Kotei, Erasto Nyoni and Juuko Murshid who have all been suspended, this should make Niyonzima's passage to the starting lineup even easier.