UEFA Champions League
'Leader' Pogba can make the difference at any time, says PSG boss Tuchel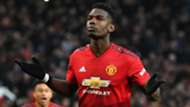 Paris Saint-Germain head coach Thomas Tuchel has sent out a warning to his squad regarding the dangers posed by Manchester United's Paul Pogba, the German trainer highlighting the midfielder's ability to change the outcome of a match 'at any time'.
Old Trafford is the stage for perhaps the most anticipated Champions League clash of the week, with a revitalised Red Devils side eyeing European glory after having fallen short in the Premier League title race.
Ahead of the match, Tuchel reserved special praise for United's star midfielder, as well as warning against the threat Pogba's countryman Anthony Martial brings for the English giants.
"Paul Pogba is an unbelievable talent with lots of ability," Tuchel told a press conference on Monday. "He's a key player. He's very strong on the ball, he rarely gives it away, he's strong in one-on-ones and can make the difference at any time. He's a leader now and he plays like one.
"Pogba's always dangerous offensively alongside Martial – they're a very dangerous pairing. Pogba is also a threat in the penalty area as well when the ball comes in from the right and he arrives at the right time in the box."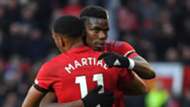 Julian Draxler, who will be standing in for one of PSG's many injured parties, feels that he and his team-mates can stop the French World Cup winner, however.
"I've known Pogba for a while," Draxler said. "We've come up against each other a few times and sometimes managed to stop him. He can do everything, but can stop him too."
Man Utd's fortunes have changed dramatically since Ole Gunnar Solskjaer took over from Jose Mourinho, but even with the absences of Neymar and Edinson Cavani to name a few, Tuchel believes that the clash at Old Trafford is well balanced.
"The Ole Gunnar Solskjaer effect!" Tuchel enthused. "I don't know how he does it, but as we say in Germany: you don't ask what the doctor does – as long as you feel better, that's enough!
"Manchester United are currently in great form, but we can still call this a 50-50 match. An unfavourable refereeing decision can change everything, we know that. But overall it looks like it will be a tight match.
"Mentally, PSG have improved. If we had not, we would not have drawn against Napoli while under pressure and beaten Liverpool.
"We were solid, like a real team should be."