MLS
LA Galaxy named most valuable MLS franchise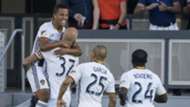 The LA Galaxy are the most valuable Major League Soccer franchise in 2017, according to Forbes.
The publication values the Galaxy at $315 million, ending the reign of the Seattle Sounders, who had been the top-valued club since 2013.
The Galaxy's $63M earned in revenue was also the most of any MLS team. Forbes attributes that to lucrative stadium naming and media rights deals, which totals over $10M and $5.5M, respectively. In addition, Galaxy were the league's most profitable team, coming in at $9M in the black.
The MLS champion Sounders are second with a franchise value of $295M, pulling in $53M in revenue for 2016. Toronto FC ($280M), New York City FC ($275M) and Orlando City ($272M) round out the top five in franchise value.
Forbes puts the average franchise value at $223M, which is a 20 percent increase from last season and notes the expansion price has gone from $100M to $150M in a few years.
Brooks sidelined for U.S. World Cup qualifiers
The team that saw the biggest increase in its value was D.C. United, which will open up a new stadium for the 2018 campaign. Forbes says the franchise's value increased by 50 percent from 2016, bringing it in at No.11 overall this year.
The rankings also lists eight MLS teams as having a positive operating income, though the Sounders ($6M) are the only team beside the Galaxy to be over $5M. NYCFC and Toronto FC recorded the biggest losses at around $9M.
Pulisic 'not thinking' about Liverpool move
At the bottom of the value rankings are the Philadelphia Union ($170M), Real Salt Lake ($155M), the Vancouver Whitecaps ($150M), the Colorado Rapids ($135M) and the Columbus Crew ($130M).
Expansion franchises Atlanta United and Minnesota United were not included on the list as Forbes did not have a full year of financial data from them.