PSL
Komphela rates Paez's Kaizer Chiefs debut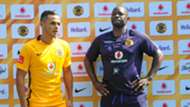 Kaizer Chiefs coach Steve Komphela admits he was impressed with Gustavo Paez's official debut for the club. 
The South American marksman came on as a second half substitute in the 60th minute of his side's 3-1 win over Free State Stars on Tuesday night, and Komphela feels his movements showed that he's a quality striker with football brains. 
However, he pleaded with the Amakhosi fans to be patient with the 26-year-old, saying he will get better with time. 
"I am happy with the performance of Gustavo Paez – you could see some glimpses of somebody who has the qualities and attributes of a striker and with time he will get there'" Komphela told reporters after the match.
"We need to be more patient with him – he is a good player and he is going to help us a lot'" the coach said.
"In the time he spent on the field' you could see the movements of somebody who understands where he wanted to run to' his ball control was good' he played with the team and he was good with link play. I think out of 10, I would give him a five (5) or five-and-a-half (5.5)," Komphela continued. 
The Amakhosi tactician somehow felt Paez could have done better with his only shot at goal which sailed over the crossbar soon after his introduction. 
"There is only one moment where I felt that he could have done better; when he took a shot from outside the box when he could have done something differently."
"But it was also a message that 'I am a striker and I want to score'. It is human nature that he would want to try hard and fit in immediately' and the minute he starts doing that it will become difficult but' overall I am happy with his performance," Komphela added.