Liverpool
'Karius form down to confidence' - former Liverpool keeper Kirkland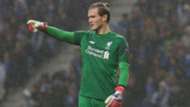 Former Liverpool goalkeeper Chris Kirkland has been impressed by Loris Karius' recent form, saying that confidence has been the key.
The German has kept nine clean sheets in his last 16 appearances since cementing his position as first choice in January, having previously shared the role with Simon Mignolet.
Both keepers have started 15 games in the Premier League this season, however, Mignolet has not featured in the league since New Year's Day after which Karius was confirmed as No.1 by Jurgen Klopp.
Kirkland has no doubt that a run of games for Karius, and confirmation of his status as Klopp's preferred first choice, has helped him to improve as a player.
"When you play a run of games, especially when you play for Liverpool you need that run of games, it's confidence. Once you get confidence and you're playing well, it adds an extra foot onto you, you feel great," Kirkland told the club's official website.
"But it's all down to him, because it has been indifferent for him since he came here, it has been extremely difficult [because] he has been in and out of the team, so to produce the performances he is now is testament to how strong a character he is."
Kirkland, who had his own battle with Jerzy Dudek during his time at Liverpool, does not believe Klopp's previous rotating of his goalkeeper was beneficial.
He added: "This has been spoken about over the last couple of years, the goalkeeper situation, and I've always said that chopping and changing didn't help,
"It doesn't help a goalkeeper. You need to be in, you need to get your eye in, you can't come in and out - especially with the pace of the game and the quality of players now, it's very difficult to come in and out of games and pick up the pace straight away."