Kaizer Chiefs
Kaizer Chiefs decide against signing Cameroonian striker Julien Ebah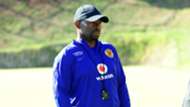 Kaizer Chiefs head coach Steve Komphela has confirmed that Cameroonian striker Julien Ebah will not be offered a contract. 
The 27-year-old was on trial at Amakhosi, who are desperate to sign a proven goalscorer this season.
However, he hasn't been sent packing as he is not exactly what the Soweto giants are looking for at the moment. 
Komphela revealed that Christ Mbondi is still with the team, before adding that they're at the final stages of assessing the former Cameroon youth international. 
"We are still checking. We had two [Ebah and Mbondi]. One from Cameroon' Ebah' has left already'" Komphela told the media on Thursday.
"There is one left. We are at the final days of assessment. We need to be satisfied, and if not you cannot, then take a hasty decision because of pressure," said the 50-year-old mentor. 
"Because the minute that you take such a decision and commits an error' you have gone back. The amount of time you give a player in a contract is the amount of time that you are wasting or gaining. So, we cannot afford to be wasting time by signing people who we feel we are under pressure to add - who are not going to help us or fit [in at the club]," he said. 
"So, we're still in that process," added Komphela. 
Mbondi is a 25-year-old striker, who last played for Deportivo Capiata in Paraguay. He is currently a free agent, meaning Amakhosi can sign him outside the transfer window provided they're satisfied with him.