Villarreal
Jonathan dos Santos: It would be a 'dream' to play alongside Giovani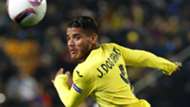 Mexican international Jonathan dos Santos has held the door open for a future collaboration in North America with his brother Giovani.
Amidst reports that Jonathan is being courted by MLS side LA Galaxy, which currently employs older brother Giovani as a designated player, the younger dos Santos said that he is open to the idea of reuniting with his sibling in the United States at some point in the future, although he also mentioned Mexico as a potential destination.
"Right now I'm good at Villarreal, but in soccer you never know what's going to happen," he told Marca-Claro. "I would love to go to Mexico or to the United States, always along side my brother. Our dream is to make history on a team, both of us together. And why couldn't that be in Mexico?"
Zizinho, the father of Jonathan and Giovani, played professionally for a host of Mexican clubs in the 1980s, including Club America. Jonathan noted that he has always had an appreciation for the Mexico City outfit, and one of its legendary players.
"Cuauhtemoc Blanco was one of the players I followed the most," Jonathan said. "He was playing for the team I liked the most then and he's always been a reference."
Jonathan, 26, has been playing regularly with Villarreal of late. The midfielder has made 25 appearances for the Yellow Submarine across all competitions this season.