It's official! Football is better for your health than other sports
It's official! Football is better for your health than all other popular sports.
A new study conducted with over 4,000 girls and young women aged 13 and over found that football can have a greater positive impact on the self-confidence of teenage girls than other popular sports.
The research, conducted by UEFA and an elite group of specialists, set out to investigate the effect football has on the psychological and emotional state of girls and young women in Europe.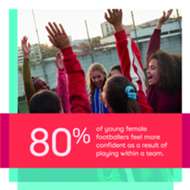 "The purpose of the research project was to understand more about the relationship between playing football and being in a positive psychological and emotional state," stated the report.
The data gathered found that the girls and young women overcome a lack of self-confidence, were less concerned what others think about them, and exhibited more confidence as a result of their participation in organised football than those who play other sports.
"This study shows that girls who play football have greater self-confidence than those who don't play the game," said UEFA's women's football advisor Nadine Kessler. "Drawing upon my own experience, I can't emphasise enough how important this is when you are growing up."
On June 1 UEFA will launch the "Together #WePlayStrong" campaign, which aims to make football the number one participation sport for girls and women in Europe by 2022.
An executive summary of the report is available here
#WePlayStrong on Twitter, Facebook and Instagram 
Subscribe to the UEFA YouTube channel here