Ligue 1
Ismaila Sarr: Meet the eye-catching Metz star following in the footsteps of Liverpool's Sadio Mane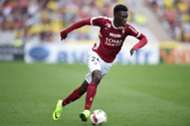 Emmanuel Adebayor, Petr Cech, Miralem Pjanic and Sadio Mane are just a handful of the many players developed by Metz in recent years, and there is another name starting to make waves at Stade Saint-Symphorien.
Ismaila Sarr has proven an eye-catching addition to the club, with the teenage Senegal star already threatening to follow in the footsteps of his compatriot Mane, who has been outstanding for Liverpool this season.
Indeed, his career has been a virtual carbon copy of Mane's to date. Both visited the Generation Foot academy in their homeland before being picked up by Metz and making their breakthroughs before they turned 20.
But while Mane's Metz were relegated to France's third tier, Sarr's generation has performed well enough to be confident of retaining their top-flight status for another season.
This has at least partly been due to the performances of the 19-year-old winger, who has become a favourite of highlight reels due to his fearless style of play that sees him take possession and charge directly at the opposition.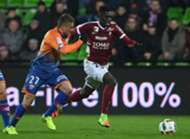 That eye-catching game has delivered four league goals to date, the most important of which arrived at the weekend.
Midway through the first half against fierce local rivals Nancy, he gathered possession just inside his own half and went straight for the visiting defence. Having powered himself all the way to the edge of the box, he then had the composure to fire into the bottom corner.
It was a strike compared to one that Lionel Messi or Cristiano Ronaldo might be proud of, while it is already being branded as one of Metz's all-time goals – not just for the quality, but for the fact it arrived in a crucial derby match.
"He's a player capable of extraordinary breaks," said coach Philippe Hinschberger. "On that goal, he underlined that he can take advantage of his placement to gain possession in a good area and make his speed count."
For the second time in as many weeks, Sarr had scored Ligue 1's outstanding goal of the round. A fortnight earlier, he had acrobatically volleyed home an Ivan Balliu cross to help his side to a vital point in another relegation head-to-head, this time against Caen.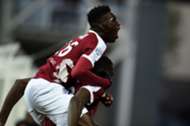 It has undoubtedly been a terrific debut season, but it has not been without its hiccups.
Sarr has started around half of his side's league outings (18), but this figure would surely have been higher had it not been for muscle pains that have rendered him a mere substitute at times.
His efforts led to him being called into the Senegal squad. Fittingly, he made his debut off the bench replacing Mane as the intertwining of their careers continued. He also won a place in the team that travelled to Congo for the Africa Cup of Nations, where he was the youngest player at the tournament.
"He's developed over the eight months he's been here," said Hinschberger..
Before he departed, he had won three penalties but had never scored a goal. Now he has four to his credit – three of which have been absolute crackers.
"When we see goals like that," Hinschberger said of Sarr's spectacular volley against Caen, "he's going to turn heads, maybe not all over the planet, but at least in France."
With a contract running for a further four years at Stade Saint-Symphorien, it seems improbable that Sarr can last that long without being noticed. Indeed, it would be extraordinary if he failed to follow Mane's pathway into the Premier League, where he has the potential to make just as great an impression.