Bengaluru
ISL 2018-19: Carles Cuadrat - Bengaluru FC's signings are exciting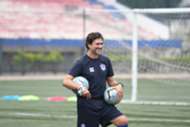 Bengaluru FC head coach Carles Cuadrat is excited about the new recruits who have arrived at the club for the fifth season of Indian Super League (ISL). 
Joining Miku, Dimas Delgado, Erik Paartalu and Juanan in the foreign player quota are Albert Serran, Chencho Gyeltshen and Xisco Hernandez. The Spanish influence the team has increased and the signing of the Bhutanese forward Chencho will boost the team's attack. 
"It will be strange for our supporters to see some of our players in other jerseys. We understand that and it happens all over the world. But we have made some exciting signings this season. They will adapt to the team and to be honest, the team will slightly adjust its tactics to welcome them as well. I'm really looking forward to seeing them play, " Cuadrat said.
The Spaniard hopes to continue the tradition of winning silverware, "The most important thing for us at Bengaluru is that we have to keep our mentality intact. We want to win trophies as we have done in the past seasons and we also want to reach the final stages of competitions," began Cuadrat.
"The club has always been competitive and when you reach that stage, it's just about the last few games which decide whether you become champions or not.
"Last season we had an amazing league phase in the ISL which brought us to the big final. We fell short there but went on to win the Super Cup. Similarly, the club had lost a league title at home a few years back in the last few moments. What makes the club and the supporters stronger is the desire to reach and stay at that level and that is something we work very hard on," concluded Cuadrat.