Indian Super League
ISL 2018-19: Pune City's Pradhyum Reddy - Conceding 10 goals from 4 games is a huge concern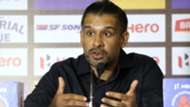 The number of goals conceded by Pune City so far in the 208-19 India Super League (ISL) is a huge concern for the team's head coach Pradhyum Reddy. 
The Stallions are placed at the bottom of the table having conceded 10 goals from four games. Interim coach Reddy hopes to turn things around, starting from their home game against Kerala Blasters on Friday. 
"We haven't had a good start to the season. We have only played one game at home. As I said, I wouldn't look too much into stats because it's just one game at home and one game where we didn't score.
"In terms of goals conceded, conceding 10 goals from 4 games is a huge concern and something we need to rectify. We can't pick up points in the league if you're going to concede 2.5 goals/game.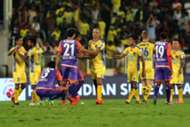 "I think if we rectify that concern, with the firepower that we've got, we do feel we've got enough to score goals and pick up points."
Kerala Blasters have had the upper hand when it comes to the head-to-head record between the teams but the Indian coach put it aside as thing of the past. 
"You can't pick your opponents. You have got to play the teams you get according to the schedule. In terms of records, every season is different. A lot of times, it is different coaches, players and completely different setups. Wouldn't look too much into the record of what happened in the previous years."
The month of November could be a make-or-break period for Pune City, with the team playing six games in total in 30 days.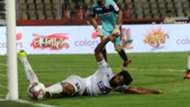 "It is an 18 game season and 6 games in one month, one-third of the season in one month. We have to turn around our home record. With our league position, every game is a must-win game for us.  You pick up a win, you can make a significant jump up the table. You get two wins, we could move up from the bottom to the playoff spots. Fortunately, other teams haven't picked up too many wins so that gives us some hope."
Reddy is open to changing the team's tactics and revealed that he has set up a game plan to tackle Kerala Blasters.
"Kerala are unbeaten, they're definitely going to be tough to break down. I think we've got some plans for them. We will have to make some changes.  We can't defend the way we did in the first few games.
"It takes time for players to settle in, especially foreigners here for the first time. It's not right to single out any particular players. We haven't had a stable back four. We need a settled back four, that'll help us have a bit more stability."