NorthEast United v Mumbai City
ISL 2018-19: NorthEast United's Eelco Schattorie - Mumbai City's time wasting annoyed me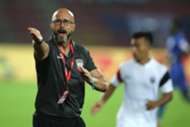 NorthEast United experienced their first defeat of the 2018-19 Indian Super League (ISL) season and it came at the hands of Mumbai City FC. 

To say that head coach Eelco Schattorie was unhappy would be a massive understatement. The Dutchman was clearly critical of the refereeing and believed that ultimately it was the controversial decisions that made the difference.
"I don't like to talk about the referees but the referees are a part of the game. It's difficult to say that you just forget it and it's a part of the game and they are doing their job. But yesterday Goa's goal was a 100 per cent offside. I need to check the replay of today's goal but I'm almost 99.9 per cent sure that there was a handball and a foul. I'm not sure if the ball went over the line, I can't tell. So that is very painful but we need to accept it."
The former East Bengal manager is of the opinion that his team created more chances than the Islanders and deserved at least a point from the fixture. 
"We tried to do everything we could to at least draw the game. I think we had a lot of chances. Their goalkeeper (Amrinder Singh) was the man of the match. There was only one team that tried to go forward. I think only one team deserved a point or maybe a win. This loss is very painful."
Midfielder Jose Leudo had to play out of position to fill in for injured Gurwinder Singh at centre-back. Eelco believes that lack of physicality in midfield was in no way an influence on the result.
"My holding midfielder had to play as a centre-back as Gurwinder was injured. He didn't train the entire week until yesterday and we took a big risk by taking him on the bench as we didn't have many options. You take a big physicality from the midfield and it's difficult but we still played well. We created more chances than them and when you look at it objectively their goalkeeper was brilliant."
There was chaos at the death with Matias Mirabaje creating a ruckus after being caught by Augustine Okrah. Eelco feels that the Mumbai players were going down easily and wasting a lot of time. The Dutchman was outraged by this and made some strong statements about the Mumbai players.
"There time-wasting really annoyed me, it was like they were dying on the field. I remember from my time at the I-League how Mumbai (FC) used to waste time and it looks like they have kept up the tradition here. I don't mean any disrespect but it was a bit too much and the referee blew the whistle half a minute early."
Eelco believes that this defeat will not have much bearing on the team's mentality or the preparations. The team will look to build on the positives and prepare for the next set of games which commence in two weeks. Kerala Blasters will be NorthEast United's first test after the break.
"We are six games into the tournament and nothing is lost. It is the way that we lost which is painful. I think we tried everything we could. We tried to play with three defenders and five midfielders at the end of the game and tried to push as much as we could but we were not lucky today. Now we have a two week break to get this out of our head and work on the next set of games."
The Dutchman jumped to goalkeeper Pawan Kumar's defence and made it clear that the custodian has his full confidence. The goal conceded didn't come off a mistake and it won't determine whether Pawan will be dropped for the next game.