Indian Super League
ISL 2017:Albert Roca says Sunil Chhetri the most professional player he has seen in his career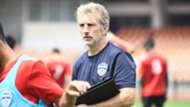 As his team prepare to take on NorthEast United FC in Guwahati on Friday, Bengaluru FC coach Albert Roca was full of praises for Joao Carlos de Deus's side's display against the Delhi Dynamos.
"I like the way NEUFC won in Delhi. They looked organized and it's going to be difficult for us and we will have to be at our best," he said at the pre-match press conference.
The Spaniard will have to do without the services of custodian Gurpreet Singh and Abhra Mondal for the tie and admitted that it was a problem.
"I have some problems at the back with regards to goalkeepers, but they are circumstances that I cannot change. I am confident in my 'keepers, and that whoever plays will do his job well," Roca stated.
The former Zaragoza manager insisted that his brand of football which remains pleasing to the eye will not change despite circumstances.
"I have a philosophy of football that I try to translate to my team. A lot of circumstances have changed, but it doesn't change a lot about the way we play," he remarked.
The 55-year-old said that skipper Sunil Chhetri is available for the tie after tying the knot recently and praised his professionalism.
"The situation with Sunil Chhetri? He's married, and he's available for tomorrow. He joined the team here and he's ready. I think he's the most professional player I've had in my career," he said.
The Spaniard also stated that his side had been working hard on their set-pieces play.
"Set pieces is something we work on a lot. But in the last game, we conceded one from a set-piece as well. It's a part of football, but it's not the only way to score," Roca remarked.
With Bengaluru also slated to participate in the AFC Cup in the midst of the Indian Super League season, Roca said that careful planning was required to circumvent injuries.
"The AFC Cup commitments come in during the Indian Super League and we have to be prepared. We have to be careful about injuries, and we'll have to plan well," the Bengaluru tactician stated.