Indian Super League
ISL 2017: Gregory Nelson - Chennaiyin FC's Dutch wing wizard snubbed European offers to come to India
By Ashwin Muralidharan (Tweets @AshwinMNair10)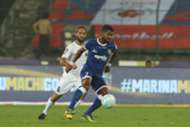 It is not often that a footballer, especially someone from Europe, decides to snub offers from European teams to go play for an Indian club. Yes, Indian Super League (ISL) outfit Chennaiyin FC's Dutch recruit Gregory Nelson did exactly that and has had absolutely no regrets over his decision. 
Nelson has had a sparkling start to life at Chennaiyin FC, coming off the bench and helping Chennaiyin FC almost stage a comeback in their opening game against FC Goa before playing a stellar role in their 3-0 hammering of NorthEast United in the second game of the season. 
In an exclusive chat with Goal, the winger revealed that the lure of coming to India was too tempting to pass up, with the good words put in by former Chenaniyin FC and Delhi Dynamos midfielder Hans Mulder also playing a part in convincing him. 
"I did have offers from Europe this season but I was close to joining Chennaiyin FC and I really wanted to come to India. So, I decided to take up this offer (instead)," he said.
"I have some friends who have already played here like Hans Mulder. He's a very good friend of mine. They told me only good things about India. So, it was an easy decision," he expressed before adding that he was close to playing the ISL in the previous editions as well. 
"In the previous two ISL seasons, I was close to coming to India. I spoke to some agents and they tried to bring me to India. I've known about the league also for some time now.
"I didn't expect the league to be so organised when I came in. Everything around the matches are well organised. And the games are like big happenings and I like it very much."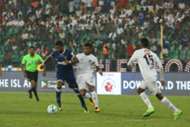 However, he felt that the country's training facilities had a lot of scope for improvement but expressed confidence that in the coming years, they will improve as well. 
"The schedule (of the league) and travelling is very good but the training facilities can be better. The field where we are training is good but in Europe, we have five-to-six very good pitches and you get gyms and other facilities which are not here. But I'm sure in four-to-five years, it will come here as well and the facilities will be better," he opined. 
The winger went on to state that while he would like to continue playing in the ISL in the future, the timing of the league makes it hard for overseas footballers to remain match fit and further their careers. In doing so, he pointed out one drawback of the ISL expanding to a four-month long league from the point of view of overseas players. 
"As of now, I really like it here. I want to see how the season plays out. But I don't mind staying longer here. I like it and I want to help the (Indian) players get better. But you never know what will happen," he shared before adding, "It is difficult (to commit for long time), with the ISL being of short duration.
"You are free only in March and in Europe, the next window is open in June I think. So, the other teams will view you as a player who hasn't played for two-to-three months. So, it is a bit scary for the foreign players who come here. Last year, we could have signed in January for some other team and then come back next season."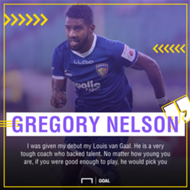 The 29-year-old who came through the youth ranks of Eredivisie club AZ Alkmaar might not have had a storied career in football, with him making just the one senior appearance for AZ before meandering off to countries lke Ukraine, Bulgaria, Kazakhstan etc, but holds the distinction of being handed his senior team debut by none other than former Manchester United manager Louis van Gaal. 
Van Gaal was in charge of AZ from 2005 till 2009 and he picked Nelson for the team's Eredivisie game against Heracles Almelo in September 2007. 
"Yes, I was given my debut my Louis van Gaal. He is a very tough coach who backed talent. No matter how young you are, if you were good enough to play, he would pick you," recollected Nelson. 
Interestingly, Chennaiyin FC is Nelson's third club in 2017 with him cutting short his association with Kazakhstan's Kaiser without making an appearance for them due to personal issues before turning out for Bahrain's Al Muharraq club.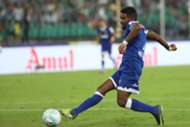 "I was supposed to go to Kazakhstan (at the start of the year) and they promised me several things but didn't deliver on them. So I decided to break (the agreement) and I went home. 
"(Then) I went to Al Muharraq and our goal was to win the league. But we failed and the coach who brought me there was fired. The new coach brought new players and I decided to
leave." 
Before the ISL season started, Chennaiyin coach John Gregory described Gregory Nelson as someone who can take on and beat any defender. The Dutchman concurs with the view and gave an insight into how he likes to play. 
"I think my strength is a combination of pace and trickery. I'm not the fastest player going around but in a one-on-one, I'm very difficult to defend and I think that is my biggest strength," he stated. 
One of Nelson's biggest achievements in his career has been playing in the Europa League with Bulgarian side CSKA Sofia in the 2010-11 season where they played against the likes of FC Porto and Besiktas.
Nelson wrapped up the chat by recollecting some of his most memorable moments, including his Europa League bow and the 2012 Ukraine Cup final loss against Shakhtar Donetsk, which had the likes of Henrikh Mkhitaryan, Willian and Fernandinho in the starting XI that day.
"Playing in the Europa League (was certainly one of the best memories). Also, winning the Cup and the Super cup in Bulgaria (with CSKA Sofia). We (Metalurh Donetsk) lost in the Ukraine Cup final agianst Shakhtar Donetsk (2012) who had some really big players."