Indian Super League
ISL 2017-18: FC Pune City's Ranko Popovic - Marcelinho is the special one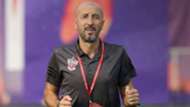 Twenty-eight points from fifteen games in the 2017-18 Indian Super League (ISL) mean FC Pune City have more than one foot in the playoffs following their 2-0 win at Mumbai City FC on Sunday.
An own goal and an eighth of the season for Marcelinho sealed the double at the Mumbai Football Arena. Head coach Ranko Popovic did not mince his praise for Marcelinho.
"Marcelinho is the best player. He can't do everything but can make a difference. He is the special one," proclaimed Popovic.
"We can sometimes play without Marcelinho, (Emiliano) Alfaro. This gives confidence to Indian players. This is something that I want to teach. Some decisions don't go your way and it becomes difficult to motivate players. I'm not some crazy guy to protest always, I know how difficult it is to play at this level. The officials also have to be involved too to be able to compete with others in the world. I know it's very easy to make or break a game. But it is really difficult to build up these things," he added.
Pune City decided to start without Uruguayan striker Emiliano Alfaro. Popovic retained his core side, heavily filled up with young Indians as he promised to give the domestic players the push ahead.
"We want to make most players possible for Indian national team and make the league stronger". The 50-year-old spoke at length about his two full-backs Sarthak Golui and Sahil Panwar - both having impressed in their breakout season.
"Sahil and Sarthak have potential; when you have a diamond it's nothing in the beginning but it becomes precious later on working on it. Both have potential but it depends on them how they handle. We are here to push but they must do things from their end too in order to get the final product. We can do things to make things beautiful in Indian football but players have to take steps too. For that, confidence is also important, we give them that too"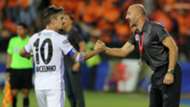 He revealed, "Sarthak didn't train with us in preseason as he was with the national team for three weeks. Why does he have to go to national team for three weeks and not play any game? It's better to stay with us. He didn't understand in the beginning with us. We give him a few other positions to make him confident. If he is in his position and makes mistake, I will kick him out. The small details are very important. Things depend on your decisions"
"We have so many players who don't have experience. Their (Golui and Panwar) game time together must be less than my age! You cannot buy experience you have to feel it. I have the same passion. It's not different to watch from stands or the touchline. In fact, no one is there to send me out of stands," Popovic expressed in his own frenetic style.
Marko Stankovic, a winter transfer window signing also received high praise from the boss. "Stankovic was a supporter of my team when I was a player. I knew him since he was 10. My generation rates him. He's a very good player; he makes the competition better. I don't want my players to be relaxed, I want them to keep pushing and Marko makes that happen"
"He has to adapt but he has accepted very well. He will be one of the best players here. Our youngsters don't have experience, they're hungry and examples like Tebar, Lucca and others help them with it. The youngsters learn from them - how to behave on losing, winning. These things can't be taught, the youngsters learn themselves," he commented.