Ireland's qualification dream alive after determined and dogged display
---
ANALYSIS
---
Every sustained period of pressure after the half-hour mark during the Republic of Ireland's World Cup qualification draw against Austria had the home crowd in full voice in Dublin.
The supporters shared many moments together, cheering on their country's brave warriors as they overcame a disappointing start to show their mettle with a much-improved second-half performance. This is the way it has often been for Ireland over the years. Three World Cup visits and as many trips to the European Championships offer standout memories for the people of the nation, with everyone of varying age groups having a story to tell when asked "Where were you when Ray Houghton/Robbie Keane/Robbie Brady scored?"
A trip to a major international championship is a pilgrimage for many Irish people, even ones who prefer to follow Gaelic sports or no sport altogether. Loans are procured from building societies and credit unions, while frantic calls are made back to the boss when the holy land of the knockout stages are reached and the Green Army's stay abroad is extended by an extra few days.
At times during a warm June evening at the Aviva Stadium, Irish fans had had glimpses of what could be next year in Russia. "Come On You Boys in Green" was sang in full voice by 50,000 supporters, while every crunching tackle by James McClean was cheered with a reverence rarely seen elsewhere.
Sure, the players were often unable to string passes together, went for aimless long balls when there were better options available, and had not a single shot on target in the first half. But these are Ireland's players. The fans love them because of their failings. They are relatable, knowable, and above all, proud to be Irish.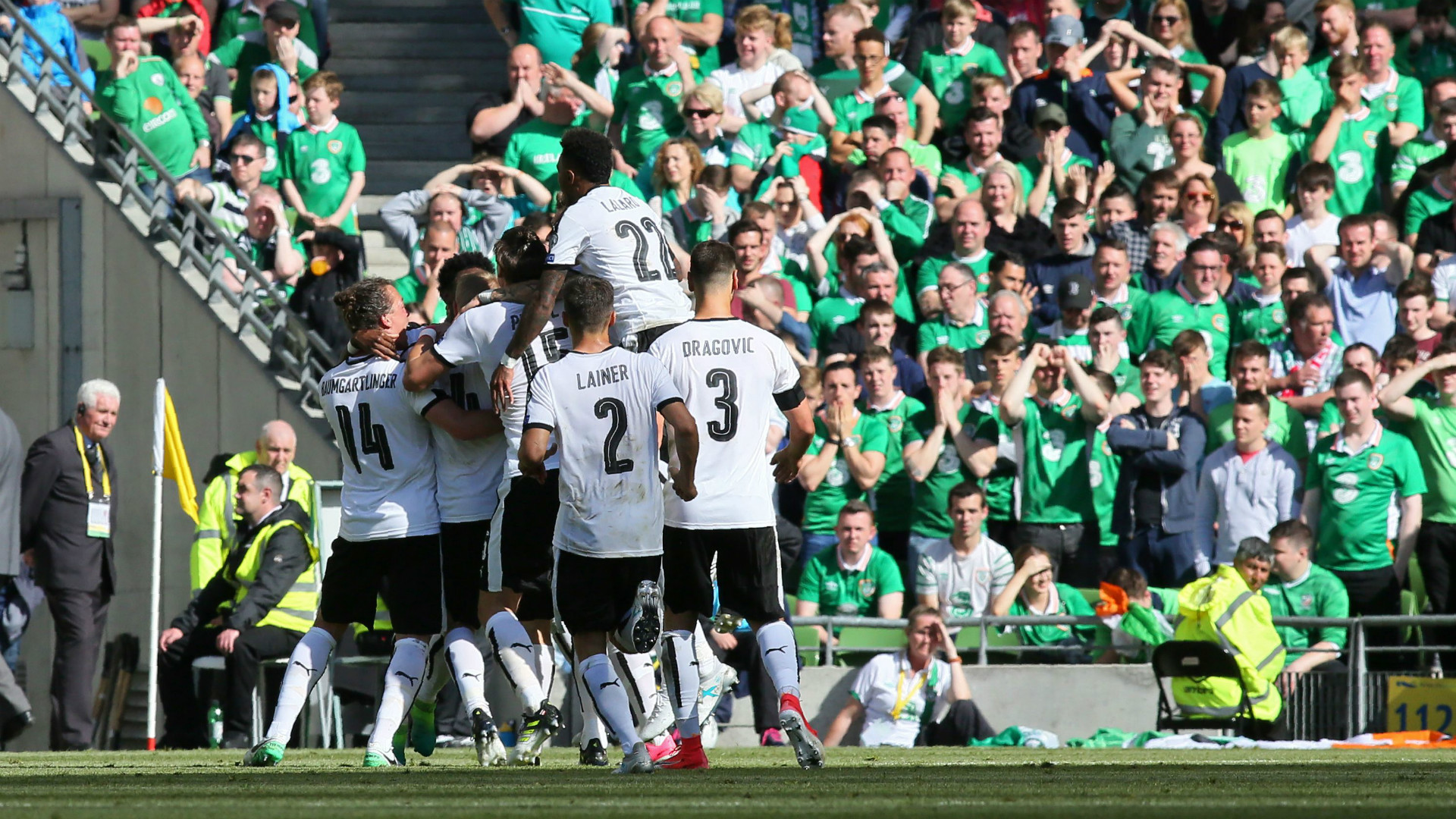 Even after Martin Hinteregger scored a beautiful goal to put Austria 1-0 up after 31 minutes, the fans clung onto the dream of a trip to Russia. The match could be salvaged, a goal could come from McClean, from battering ram Jonathan Walters, or from much-loved and underappreciated Wes Hoolahan, who came on as a substitute with the intention of actually trying to keep the ball on the ground and create something.
Typical Irish striker Daryl Murphy was also called from the bench as Ireland rejected modern tactics for Jack Charlton's trademark 4-4-2. Who cares about the football as long as we get there? The points are all that matter.
"It was a half where they were on the back foot," Walters told reporters after the game. "I think we were on the front foot since we came back out. The place was bouncing. We're happy with the way we came back."
WATCH: England's World Cup winner
Ireland's equaliser came from the dogged determination of Walters, who clearly fouled the defender in the build-up to the goal, but that was only right in the mind of home fans who felt referee David Fernandez Borbalan gave them nothing throughout.
A couple of minutes later, Shane Duffy had the ball in the net, with the referee chalking that one off for a foul on the goalkeeper. The crowd boomed again and again. What if this was another of those historic nights?
It could well be yet. There is plenty to play for in the group.
Where were you when Jon Walters scored against Austria?