Indian Super League
Indian Super League: Chennaiyin FC announce John Gregory as head coach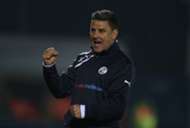 Indian Super League franchise Chennaiyin FC have appointed former Aston Villa manager John Gregory as their head coach for the upcoming season of the IMG-Reliance-owned league. 
The 63-year-old takes over from Marco Materazzi who, during his three-year spell in charge of the Super Machans, led the club to the title in 2015. 
Materazzi parted ways with Chennaiyin FC following a disappointing seventh-placed finish in the 2016 edition of the ISL. 
John Gregory, a former England international, was a constant fixture in midfield for the likes of Northampton Town, Queens Park Rangers and Derby County during his playing days. He managed Aston Villa in the Premier League between 1998 and 2002 during which he oversaw massive improvement in Villa's league form. They were even leading the league midway through 1998-99 season before dropping off. 
He last managed Crawley Town before stepping down in 2014, citing health issues. 
"We are very happy to have appointed John as our head coach. He has immense experience at the very highest level of the game both as a player and coach and his vision and personality matches our club philosophy and ambition. We look forward to a great season under his guidance," Chennaiyin FC co-owner Mrs Vita Dani said.
John Gregory stated, "I am very excited to have joined Chennaiyin FC and would like to thank the club owners for believing in me and giving me this wonderful opportunity. Chennaiyin has been one of the most consistent teams in the ISL so far and I want to continue the great work done by Marco Materazzi in the first three seasons." 
Having finalised the appointment of the head coach, Chennaiyin FC will turn their focus towards player recruitment.