U17 World Cup
Indian Football - Praful Patel: 'Decision to sack Adam taken in the interest of U17 national players'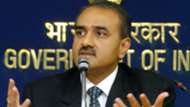 The All India Football Federation's (AIFF) President Praful Patel, has sternly assured Indian football's keen observers that the governing body is doing all in its might to have a replacement to the departed U-17 national team coach Nicolai Adam ready to take over the reigns by the end of the present month.
"We are going to look at the best options available," began the 59-year-old, speaking to The Hindu, to whom he further added, "We have received a good number of applications for the job and we would soon begin the process of interviews." 
Patel also stated explicitly, "On behalf of the AIFF, I can say that we took the decision in the interest of the players. We'll obviously get a replacement and the new coach will take charge soon. We will have an interim coach to handle the team, but the replacement will take over the team by the end of February."
Adam and the AIFF mutually agreed to terminate their association, yesterday. This after players of the side protested and complained about his methods, combined with a streak of poor results compounded by the last place finish of the Blue Tiger cubs in the recently concluded Valentin Granatkin Cup. 
Desailly tells Terry his time at Chelsea is up
The Indian FA's chief also mildly castigated the support staff  of the young Colts' team, for letting things go as far as they did off the field. 
"The support staff should have informed the AIFF about the behaviour of the coach. There was absolutely no indication from the support staff or the players. We would have acted at the first complaint. I reprimanded them for allowing things to reach this stage," he reacted. 
Finally, concluding there would be no let up in the trainng facilities or coaching afforded to the colts participating in this year's U17 World Cup. 
"The team will resume training soon and will continue to get the best facilities," concluded the Indian FA's chief executive.