I-League
Indian football: Aizawl FC demand to be included in the proposed top league formed by the merger of ISL and I-League
It was a fairytale finish to the 2017 I-League season that saw Aizawl FC win their first ever I-League. 

This was after being relegated last season and only being reinstated by the All India Football Federation (AIFF) this season. 

With talks in the open that the country's governing body for football were looking to merge the recently concluded league with their pet project - the Indian Super League (ISL) preferably from this season, the North Eastern club have laid out their demands. 

Aizawl FC's route to the I-League title

This is after the AIFF have gone on record saying that only a select few I-League clubs would be a part of this proposed top league of India and the present I-League would basically be rechristened the second division. 

In this top league, it has been Bengaluru FC, East Bengal and Mohun Bagan who are looking to represent the I-League besides the remaining ISL teams.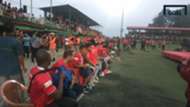 In lieu of this, according to information with
Goal, 
Aizawl have presented their case for inclusion as well, especially citing their spate of good performances, winning the I-League this season and also finishing runners-up in the Federation Cup last season. 
Aizawl win the I-League - Twitter reacts
The club which has not fulfilled all the AFC licensing criteria for playing in the AFC
Champions League
after finishing on top, also vowed that they were on track in meeting all the requirements as they bid to represent India on the continental stage.
The club authorities have also appealed to AIFF's sense of fairness as they claim their exclusion would not only kill the inherent beauty of football but defeat principles of fair treatment. 
It looks to be seen what steps the AIFF will take in response to the appeal.