India U18
India U17 National Team: Nicolai Adam - We have problems with our finishing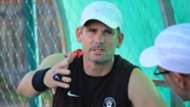 India Under-17 national team were edged out by Iran 1-0 on Tuesday at the Saint Petersburg Sports Complex, Russia. The winner came in the 39th minute from Sharifi Mohammad, who incidentally had scored the third goal against India in the 3-0 rout at the AFC Under-16 Championships in Goa last year.
Coach Nicolai Adam stated that he was pleased with the performance of his team despite the fact that they were on the losing side yet again.
"I am satisfied with performance of my team. In spite of our 8-0 loss to Russia in the first match, I think that the team is representing our country very well. We have problems on the finishing stage, and I guess that was the reason of today's defeat," he explained.
Incidentally towards the closing stages of the game, Adam chose to substitute goalkeeper Naskar Tamal for Dheeraj Moirangthem.
Goal counts down the 100 most expensive players of all time
"We were taking a free-kick that time (around the 90th minute mark), and I hoped that our number 5 – Sanjeev Stalin – will equalize. If so, a penalty shoot-out would have happened to decide the winner, and the goalkeeper I sent to the field was very good at making saves from penalties," he reasoned.
Meanwhile, Iran coach Abas Chamanian opined that India have improved since their 3-0 thrashing last year. Chamanian had named six players from the said game in the starting eleven on Tuesday while Adam made only three changes to the team which lost to the Asian giants. 
"Congratulations to my colleague (Adam) on a good performance today. Our teams met last year in the Asian Championship, and as for India, I guess it has progressed a lot since then. Today's match was hard for us, as in some moments our opponents were playing better than us," he acknowledged.