Kylian Mbappé
'I'm the luckiest player in the squad!' - Mbappe hails impact of Monaco team-mate Falcao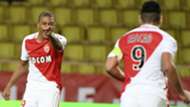 Monaco star Kylian Mbappe claims he is the luckiest player at the club because of his close relationship with "top striker" Radamel Falcao. 
Chiellini reaches Serie A milestone for Juve
The 18-year-old has established himself as one of the most exciting forwards in European football having hit 14 Ligue 1 goals and 10 in cup competitions so far this term, and has widely been tipped for a record-breaking transfer away from Monaco at the end of the season.
And, though Mbappe's performances have won acclaim from the European elite, the France striker insists team-mate Falcao has had a big impact on his success.
"I think I'm the luckiest player in our squad," Mbappe told UEFA. "Because I'm at the start of my career and get to play alongside a top striker like Radamel. He's made his mark on the history of the game and scored a huge number of goals."
Mbappe, who has steered Monaco into the semi-final stage of the Champions League this season with five goals in seven appearances, has highlighted his first start in the competition as a high point of the campaign.
"My personal highlight was the away leg of the Manchester City tie, because it was my first start – I heard the music as we walked out onto the pitch and it was really special. I took real pleasure from that experience.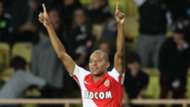 "Since I was a boy, I've always dreamt of playing in the Champions League. I would watch all the games; even now I still watch all the Champions League games. So playing in it was an immense pleasure for me."
Monaco take on Italian champions Juventus in the semi-finals of the competition, with the Ligue 1 side playing host to Max Allegri's men on Wednesday.
Mbappe is not underestimating the challenge of progressing past the Turin club and reaching the final, but he is confident in their chances and is looking forward to going up against one of the best goalkeepers in the game, Gianluigi Buffon.
"Juventus are a great club," Mbappe added. "Everybody knows their history, the great players who played there, the great players who still play there. They're a great team, and they eliminated Barcelona who were also among the favourites. They showed they have what it takes to win the competition.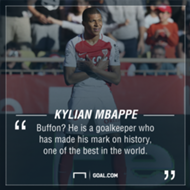 "But we also have qualities and we'll do everything we can to get to the final.
"Buffon? He is a goalkeeper who has made his mark on history, one of the best in the world. I'm glad I'll play against him. You work every day to play against players like him. When you do, you want to give your best to beat them."