Primera División
Ignore the Barcelona conspiracies, Real Madrid will be deserving champions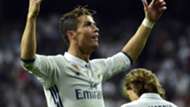 ---
COMMENT
---
The league table rarely lies. Like last season, La Liga will be decided in the last round of fixtures and if Real Madrid, as expected, go on to claim the title for the first time since 2011-12, then they will have deserved it.
Madrid must pay Malaga over Isco if they win La Liga
Madrid are away to Malaga on Sunday and there are already a number of conspiracy theories being put forward by Barcelona fans ahead of that match at La Rosaleda, including question marks over the Andalusians' coach and also the influence of a possible windfall for the Costa del Sol side from the Isco transfer in 2013.
Malaga are coached by Michel, a Madrid symbol in his playing days after coming through the youth system at Real and a man who said after beating Barca in La Liga last month: "Real Madrid will be the champions, but a Malaga man from Real Madrid has lent them a hand."
And many concerned with Barca believe the 54-year-old will lend Los Blancos another helping hand, especially as Malaga have nothing left to play for in the Primera Division. However, the coach distanced himself from all of that with a tweet on Thursday which simply stated: "Focused on ourselves."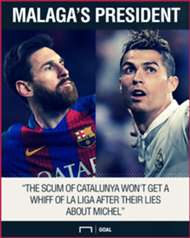 For his part, Malaga president Abdullah Al-Thani has reacted angrily to press speculation over Michel and late last month sent out a tweet in Arabic responding to a question on whether his team would beat Madrid: "With the help of God, we'll beat them on the pitch," it read. "But the scum of Catalunya won't get a whiff of La Liga after their lies about Michel."
Sandro hoping to hand the title to Barca
In the meantime, Malaga are also set to receive a payment of €1 million from Madrid if Los Blancos win La Liga as part of the agreement which saw Isco move from the Andalusian club to Real in 2013. That deal included €3m in variables, €1m for each league title won by Madrid in the player's first five seasons at the Santiago Bernabeu, and the first of those payments could be triggered this weekend.
On top of all that, there has been yet more talk of officials in the current campaign and Gerard Pique spiced up the rivalry between Barcelona and Madrid earlier in the season with a tweet listing the decisions that - he claimed, using links from Madrid media - had gone in Real's favour.
Pique was captured on camera after Barca's winner in the Clasico clash at the Bernabeu last month mouthing "we are infinitely better" than Madrid. However, in La Liga this term, that has simply not been the case.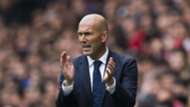 Barca have won the Primera Division in six of the last eight seasons, although many fans of the Catalan club argue that their title hopes were persecuted in the two years that they failed to win it - in 2011-12 as Jose Mourinho's Madrid were perceived to benefit from a number of decisions throughout the title race and in 2013-14 as Lionel Messi was denied a perfectly legal goal in the decider against Atletico at Camp Nou on the last day of the season.
Real Madrid consider move for Oblak
This time, however, there can be no doubts. Although conspiracy theories abound among Barca fans, the fact is that their team has not been good enough in La Liga in 2016-17. Although Madrid have had their problems on occasions as well, Zidane's side have been able to come through them more often - which is why it is Los Blancos who go into the final fixture needing just a point to be crowned champions.
If they can clinch it, the title will be deserved. Barca have been the dominant force in La Liga in the past decade, but this time Madrid have been the better team in the Primera Division over the course of the past nine months. Instead of conspiracy theories, the Catalans would be better off looking at just what went wrong in their own performances this season.