Super League
If FAS can sign new players, why can't they settle their debts? - Amirudin Shari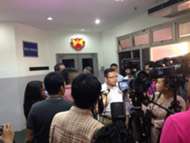 ---
BY         NIK AFIQ        Follow on Twitter
---
The Selangor state government youth, sports, culture and enterpreneur development executive committee member, YB Amirudin Shari believes that the Football Association of Selangor (FAS) have the fund they need to settle their purported debt.
The state government, through FAS president (since resigned) and the state's chief minister, Datuk Seri Azmin Ali has stop providing funds to the FAS.
Azmin Ali resigned from his post as the president and FAS is reportedly struggling to find their own fund for the 2017 M-League.
However according to Amirudin, who is also the former manager of the Red Giants, the door is open to FAS if they would like to discuss the issue with the government, although he believes that FAS has enough fund to settle their debts with former coaches and players.
"If they want, FAS can come to us to discuss the issue but regarding their issue with Zainal Abidin Hassan, I will talk to the chief minister first.
"The issue right now is the players must settle their problems with the FAS. FAS said that they don't have the fund, hence the reason why they are asking us for money.
"But I don't see they are having problems with that since they have been signing players, import players for the upcoming season.
"That is why we suggest for them to settle their debts first, before finding solutions for other problems."
Meanwhile, Amirudin said PKNS FC have the full backing of the Selangor state government in developing the state's football.
Amirudin hailed PKNS FC as an "almost-perfect" club, and admitted that they have impressed the state government and will get full support in terms of football development in Selangor.
"PKNS FC are an almost-perfect club, from their Super League squad to the players at the academy level."
"We have a complete squad for a football club and it is perfect for the state governmet to give their full support."
"This is a team that represents Selangor, and wearing Selangor's flag so I don't see why we shouldn't give them our support." added Amirudin.